'Mr. Robot' Renewed For Season 3 By USA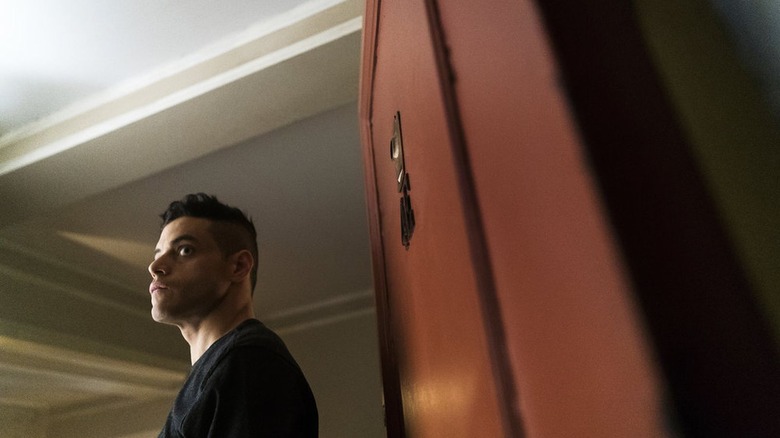 In what is bound to be the least surprising news of the day, Mr. Robot has officially been renewed for a third season. USA Network made the announcement today, just as the cyber thriller prepares to move into the second half of its second season. 
The only thing that's remotely shocking about the Mr. Robot renewal announcement is that it took this long. If you'd asked me a month ago whether Mr. Robot had already been picked up for season three, I probably would have guessed yes. Still, it's great news all the same. The numbers for Mr. Robot actually aren't all that great — the most recent episode attracted just 572,000 viewers in Nielsen's live-plus-same-day ratings. However, it's been one of the network's most buzzed-about series, recently picking up four Emmy nominations including one for Best Drama.
Created by Sam Esmail, Mr. Robot stars Rami Malek as a troubled cybersecurity engineer who gets drawn into a massive hack intended to take down a massive global corporation. Christian Slater, Carly Chaikin, and Portia Doubleday also star. The show was one of last summer's most pleasant surprises, signaling USA's shift away from "blue skies" programming toward edgier fare.
Said Chris McCumber, president of entertainment networks for NBCUniversal Cable Entertainment:
We couldn't be more proud of Mr. Robot, a series that has pushed boundaries, captured the cultural zeitgeist, and been honored as one of the best dramas on television. Midway through its second season, 'Mr. Robot' continues to break new ground and open up new opportunities for the network.
The first season received near unanimous praise. Reactions to the second season, which premiered in July, have been more mixed, but the show remains a critical favorite. (And for what it's worth, /Film's resident Mr. Robot expert Corey Atad has been defending the show all along — you can read all his recaps here.) Mr. Robot airs the seventh episode of its twelve-episode second season tomorrow. Unlike the first season, which brought in a number of different directors, the second is directed entirely by Esmail. Watch a tease of the upcoming episode below: