Star Wars Bits: George Lucas Remembers Kenny Baker, 'Han Solo' Directors Visit The Millennium Falcon, And All Kinds Of 'Star Wars Rebels' Chatter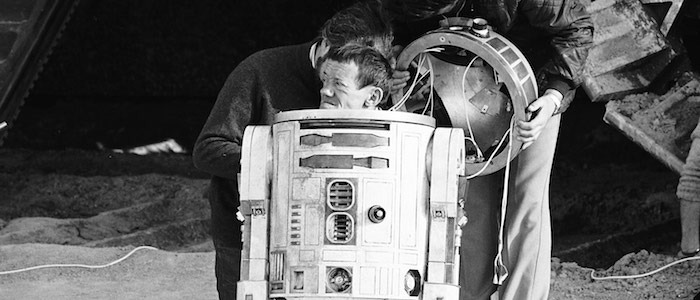 In this edition of Star Wars Bits:
George Lucas and Kathleen Kennedy remember the late Kenny Baker.
Phil Lord and Chis Miller pose on the set of the Millennium Falcon.
Rian Johnson has officially begun editing Star Wars: Episode 8.
Dave Filoni and Sam Witwer talk Star Wars Rebels.
The special features for the Star Wars Rebels season 2 Blu-ray have been revealed.
Preview the newest Star Wars comics.
Check out video of award-winning Star Wars cosplay.
 And more!
Kenny Baker, the actor best known for brining R2-D2 to life in the original Star Wars trilogy, passed away a few days ago. In the obituary published at StarWars.com, George Lucas offered this statement:
Kenny Baker was a real gentleman as well as an incredible trooper who always worked hard under difficult circumstances. A talented vaudevillian who could always make everybody laugh, Kenny was truly the heart and soul of R2-D2 and will be missed by all his fans and everyone who knew him.
Lucasfilm president Kathleen Kennedy offered words of her own:
We're all saddened to learn of Kenny's passing. There is no Star Wars without R2-D2, and Kenny defined who R2-D2 was and is. He will be greatly missed.
Baker, whose other credits include Time Bandits, Labyrinth, and 24 Hour Party People, was 81 years old.
#TBT to TFA on the day @philiplord & I first set foot on the Falcon pic.twitter.com/PDMYX6m6T5

— Christopher Miller (@chrizmillr) August 11, 2016
We first learned that The LEGO Movie and 21 Jump Street directors Chris Miller and Phil Lord were directing a Han Solo spin-off movie months before Star Wars: The Force Awakens opened in theaters. So it makes perfect sense that the guys making the movie about the smuggler known for piloting the Millennium Falcon would visit the set of J.J. Abrams' movie and chill out in that iconic ship. And yes, of course someone took a picture, as you can see in the tweet above.
A photo posted by Rian Johnson (@riancjohnson) on
While Lord and Miller are still barreling toward a start date on the Han Solo movie, director Rian Johnson has officially begun editing Star Wars: Episode 8.
IGN caught up with Darth Maul voice actor Sam Witwer at Star Wars Celebration, where they chatted about the Sith Lord's role in the second season Star Wars Rebels and how the characters will move forward following the events of the finale. There's nothing earth-shattering here, but Witwer (who also voices Emperor Palpatine) has his fair share of strong insights about the show and Maul's role on it.
And if you want more chatter about the Star Wars animated realm, there's this hour-long interview with Star Wars Rebels executive producer and showrunner Dave Filoni. It's safe to say that few creators get Star Wars quite like Filoni gets it and while his work speaks for itself, this interview will only endear you further to him.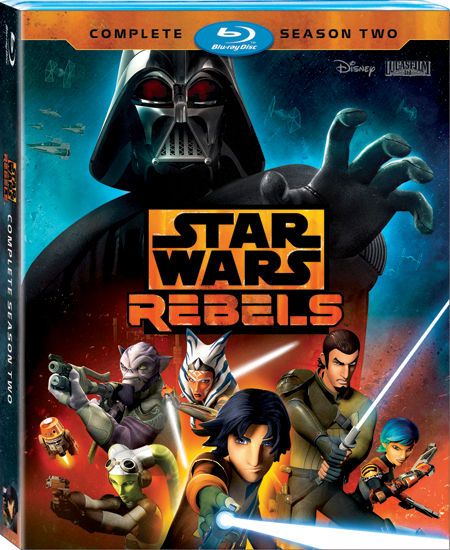 Star Wars Rebels season 2 arrives on Blu-ray and DVD on August 30, 2016 and the special features have been revealed. First up is a feature exclusive to the Blu-ray edition;
From Apprentice to Adversary: Vader vs. Ahsoka (Exclusive to Blu-ray) – Executive Producer Dave Filoni reflects on the climactic ending of the season, when Ahsoka Tano finally confronts Darth Vader in a long-awaited, fierce and epic lightsaber battle.
And here's what you'll find in both sets:
Connecting the Galaxy: Rebels Season Two – Uncover hidden references, easter eggs and connections to the Star Wars universe found throughout the season.
Rebel Recons – Blast off with 20 fun, fast-paced episode recons, featuring behind-the-scenes footage, interviews with cast and crew, and more!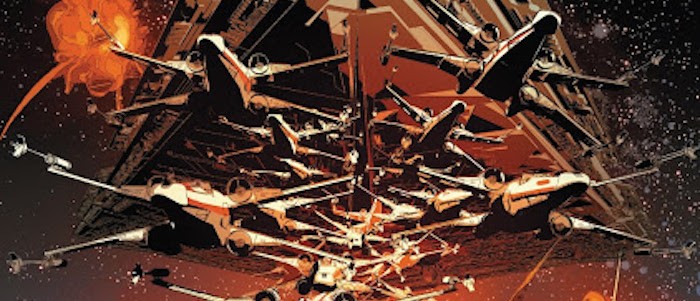 StarWars.com has revealed new preview pages for Star Wars #22, the latest issue in Marvel's consistently strong comic series set between Star Wars and The Empire Strikes Back. Written by Jason Aaron and pencilled by Jorge Molina, this issue finds Han, Luke, and Leia on a mission to hijack an Imperial Star Destroyer. I like what I see of Molina's art here, especially since his more exaggerated style is a nice change of pace from the more realistic art styles that have usually been on display in this series. The issue is set arrive on August 24, 2016.
Meanwhile, the final issue of Marvel's incredible Darth Vader series has been delayed for reasons unknown, with Darth Vader #25 now set to arrive on October 5, 2016. The latest issue resolved the current story arc, but many lingering threads remain and a few character relationships need a proper denouement. If writer Kieron Gillen and artist Salvador Larroca need an extra month to end this series properly, they have earned that time. Here is the cover for the final issue as well as a variant centered around Doctor Aphra, Vader's new frenemy who has played such a memorable role throughout this series.
However, Darth Vader isn't the only Star Wars series to be seeing delays. Issues four and five of the new Han Solo miniseries have been delayed until October and November while the seventh issue of Poe Dameron has been delayed until late October. Delays like this are often common in the comic world and shouldn't be viewed with alarm – sometimes the writers and artists just need an extra month or so to get the job done right.
The latest update to LEGO Star Wars: The Force Awakens is an adaptation of a C-3PO-centric comic book that was published earlier this year. Titled "The Phantom Limb," both the comic and the new level follow C-3PO as he is stranded on a dangerous planet, where they must contend with all kinds of threats. The hook here is that this event explains why everyone's favorite protocol droid has a red arm in The Force Awakens. On the page, it's a surprisingly disturbing and touching story. The LEGO version looks like an appropriately silly riff on the material.
The latest episode of The Star Wars After Show, which finds Andi Gutierrez chatting with Lucasfilm's Justin Bolger, Matt Martin, Kristen Hidalgo, and Scott Bromley about Star Wars Rebels and "the joy of cosplay" is here and you can watch it in the embed above.
Speaking of cosplay, the full video of the Star Wars Celebration cosplay contest is online and it's impressive from top to bottom. And then you get to Julian Checkley's Grummgar, a character briefly glimpsed in Star Wars: The Force Awakens, and you see why he took home the grand prize. For a gallery of images taken a recent photo shoot, you can follow this link.