Scott Eastwood Will Star In Wayne Kramer's Sci-Fi Film 'Ecstasia'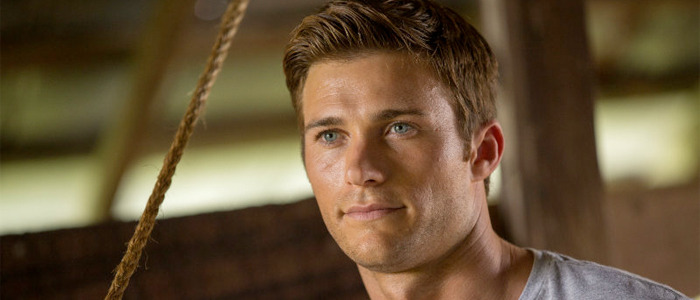 Scott Eastwood has been lining up some pretty good jobs for himself. The actor recently appeared in the critically reviled but commercially successful Suicide Squad, and we'll soon see him in Oliver Stone's Snowden, and Ben Affleck's adaptation of Dennis Lehane's Live by Night. Now he's just landed another leading part in Ecstasia, a science-fiction project from Wayne Kramer (The Cooler).
Below, learn more about the potential Scott Eastwood sci-fi movie.
According to The Hollywood Reporter, Eastwood and Matilda Lutz (Rings) will play a couple in Kramer's Ecstasia. Kramer wrote the original script, which revolves around a couple living in a world where love doesn't exist — but it can be purchased. In a process called "commitment," the couple buy an implant — a small chip called Ecstasia — to make them feel love, and it sounds like Kramer's story primarily takes place when the purchase they made is beginning to expire. When we first heard about the project back in 2011, it was said the plot features "a man and woman who turn to desperate measures when they can no longer afford the costs of 'commitment,'" and Kramer is no stranger when it comes to desperate characters.
Production is scheduled to begin next spring in South Africa, where Kramer is from. Ingenious, Film Afrika and Red Sea Media are financing the sci-fi romance, and they'll meet with potential buyers at next month's Toronto International Film Festival. Sentient Entertainment's Renee Tab and Christopher Tuffin are producing the film, and the two recently collaborated with Eastwood on Overdrive, a thriller starring the actor and Ana de Armas (Blade Runner 2). That heist picture currently doesn't have a release date, but two other upcoming Eastwood projects that do have release dates are Fast 8 (April 24th, 2017) and Pacific Rim: Maelstrom (February 23rd, 2018).
Over the past few years, Kramer has been involved with a few notable projects that didn't pan out, such as the Sylvester Stallone-led Bullet to the Head and an adaptation of the video game Kane & Lynch. His previous feature, Pawn Shop Chronicles, a small and nasty piece of work, flew under the radar, but two of his earlier films, The Cooler and Running Scared, have had real staying power over the past few years. The director often captures great performances — and the same can be said for Crossing Over, a movie he had a disastrous time making — so maybe he'll show us what else Scott Eastwood is capable of as an actor.