Henry Cavill Teases Black Superman Suit For 'Justice League'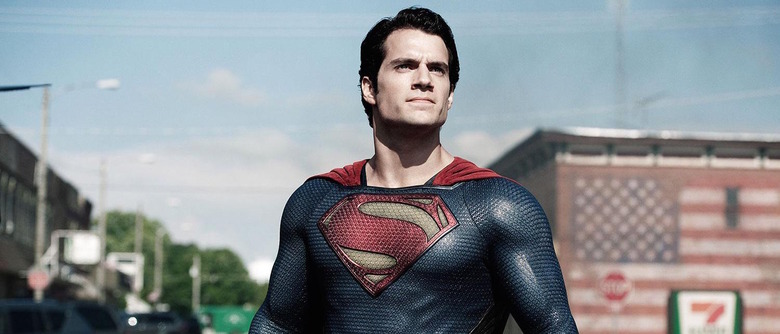 Next year's Justice League will see Henry Cavill step into the Superman suit for the third time on the big screen, but said suit might look a little different this time around. While the Superman uniform remained pretty consistent from 2013's Man of Steel to this year's Batman v Superman: Dawn of Justice, Cavill is teasing a new costume for his next outing as the the DC superhero. Take a peek at the black Superman suit below. 
On Instagram, Cavill shared an extreme close-up shot of what appears to be a black Superman suit.
A photo posted by Henry Cavill (@henrycavill) on
For comparison, you can see the texture on the more traditionally colored Man of Steel costume here:
If you've seen Batman v Superman, you already know that the movie ends with (spoiler alert!) Superman sacrificing himself in the final battle against Doomsday. His family and friends mourn, but a closing shot of dirt levitating off of his coffin suggests we have not seen the last of Superman. And really, Warner Bros. isn't even trying to hide the fact that Superman will return for Justice League. "Well, obviously Superman is part of the Justice League," producer Deborah Snyder confirmed in June. What they won't say is how: "But I think his way back to us, we don't want to really spoil that," she added.
If Superman is indeed rocking a black suit in Justice League, it won't be the first time. In the 1990s comic book storyline The Death of Superman, our hero is killed in a battle with Doomsday. (Sound familiar?) Upon his revival, he sports a new black costume and a longer hairstyle. A couple months ago, director Zack Snyder teased the possibility of a longer-haired Superman in Batman v Superman, laughing that Superman's hair in the movie "should be perfect, a little longer I guess! That's what the myths are anyway." How closely Justice League follows the Death of Superman arc from the comics remains to be seen, but the filmmakers certainly seem to be nudging fans in that direction.
Besides Cavill's Superman, Justice League also stars Ben Affleck as Batman, Gal Gadot as Wonder Woman, Jason Momoa as Aquaman, Ezra Miller as the Flash, Ray Fisher as Cyborg, and J.K. Simmons as Commissioner Gordon. The villain is confirmed to be Steppenwolf, although we don't know yet who is playing him. Justice League arrives in theaters November 17, 2017.