Rumor: VR 'Wreck It Ralph' Ride To Replace 'Stitch's Great Escape' At Disney World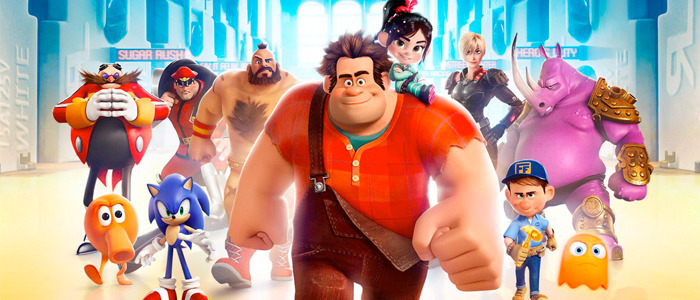 The latest rumor in the Disney theme park rumor mill claims that the Lilo & Stitch-themed Stitch's Great Escape! attraction in Walt Disney World resort's the Magic Kingdom could be replaced with a virtual reality simulation ride based on Walt Disney Animation's Wreck-It Ralph. Hit the jump to learn more about this latest rumor.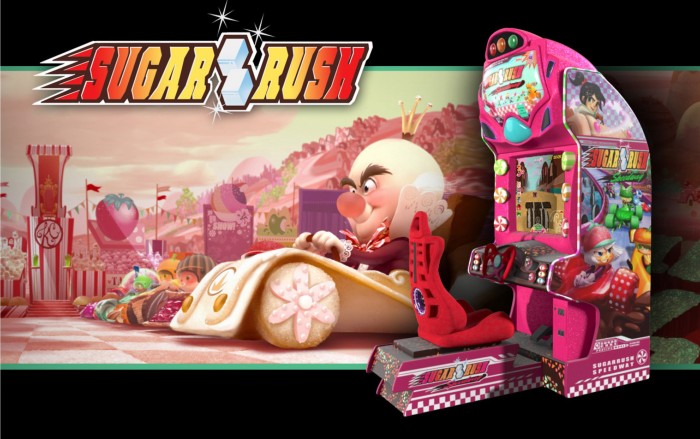 Disney theme park insider Jim Hill talked about the rumor on the latest Unofficial Guide's Disney Dish podcast. Hill says that the story of a Wreck-It Ralph ride is nothing new, relaying a 2014 story of overhearing legendary Walt Disney Imagineer Tony Baxter talking about the team developing a Sugar Rush racing game for Disney parks. According to Hill, this is what many insiders believe will be replacing Stitch's Great Escape! in Magic Kingdom's Tomorrowland.
According to the rumors, the chairs would be stripped out of all three levels of the attraction to make way from motion-simulator go-karts based on the Sugar Rush game in Wreck-It Ralph. Park guests would sit in the simulator with Virtual Reality headsets that would put them inside the game from the film. They would be not only experiencing a ride but playing the three- to four-minute-long racing game against everyone else in the room.
Each room would house 25-32 racers depending on the configuration, which is a pretty weak per-hour capacity. Also, anyone who has attended a video game convention will tell you that getting VR headsets on and off people is not a quick process, but maybe Disney had figured out a way to make this process faster and trouble-free.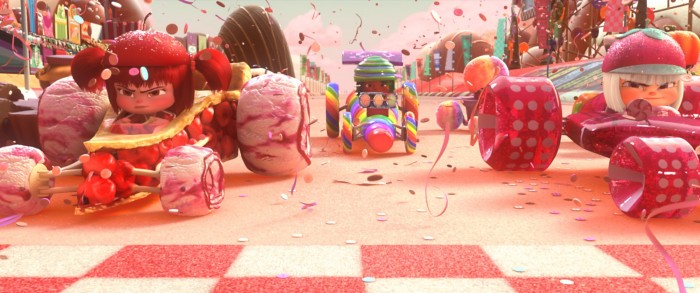 After exiting the attraction, racers will be told who won in a variety of categories (junior, adult, etc.) based on information the riders entered in the pre-show room. While Jim does not explicitly say this, I guess that the riders will be able to customize the look and functionality of their racecars, similar to Test Track at EPCOT, but the riders would be able actually to ride their customized vehicles in the virtual reality simulators.
And like Star Tours, the ride vehicles would be built so that they could easily be updated in the future with new and additional content. So they could add new characters and locations introduced in the sequel if they wanted later on. A system like this could also allow for randomized tracks and places, much in the way Star Tours does now. The ride would exit into the gift shop (of course) which would be filled with Wreck-It Ralph merch including the ability for riders to purchase a customized trophy from their particular race.
A Wreck-It Ralph attraction is a no brainer, especially in Tomorrowland. A sequel will be hitting theaters in March 2018, and I'm sure Disney could launch this new attraction to time with that film. I'm a huge fan of Wreck-It Ralph and would love to see that property get more exposure in the theme parks.
Imagineering has so far downplayed their interest in using VR for park attractions, only stating that they use a DISH room which employs 4k projections on the surrounding walls to visualize future rides, hotels and more.
The thing about this rumor that seems a big strange is the theming of it being a Sugar Rush racing ride. I could understand if the ride races through Sugar Rush and other video game worlds seen (and not seen) in the movie(s). But the Sugar Rush theme alone seems like a weird fit for Tomorrowland in theory, although much of Magic Kingdom's Tomorrowland no longer fits the futuristic/space theme of the world Walt Disney created. Currently, the list of attractions in the land includes Astro Orbiter, Buzz Lightyear's Space Ranger Spin, Monsters, Inc. Laugh Floor, Space Mountain, Stitch's Great Escape!, Tomorrowland Speedway, PeopleMover, Walt Disney's Carousel of Progress and The Incredibles Dance Party.
Stitch's Great Escape is a reworking of a 1994 attraction called The ExtraTERRORestrial Alien Encounter which was closed as it was deemed too scary for younger park visitors. Great Escape incorporated Stitch, the alien character from the hit Walt Disney Animation film Lilo & Stitch, but uses many of the same elements. Stitch's Great Escape is considered one of the least favorite attractions by many long-time Disney parks fans, so I'm sure many people will be happy if this rumor turns out to be true. But for now, let's just consider it a rumor.