Exclusive: Screenwriter Will Beall On 'Aquaman' Setting, 'Legend Of Conan' Storyline [TCA 2016]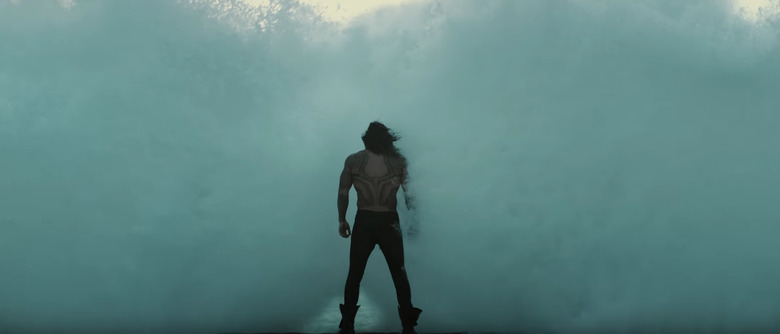 I ran into Will Beall at the end of the CBS/CW/Showtime party for the Television Critics Association. Beall developed Training Day for television and is also writing the screenplay for Aquaman. Even though news recently broke that Black Manta is the film's villain, Beall could not address it. However, we were able to speak about underwater action versus action out of the oceans.
"I can tell you that not all of the action takes place underwater," Beall said. "Some of the most fun action in the movie actually takes place on dry land." 
Even with a TV show in production at CBS, Beale is not finished with his Aquaman screenplay. "Nope, I am still working on it with James [Wan] and Geoff [Johns]," Beall said.
Justice League, which features Jason Momoa as Aquaman, is still in production. I asked if any elements of Aquaman were in flux pending developments in Justice League.
"No, no, they know what's happening," Beall said. "Everybody knows what's happening so it's not that. It's working out what's going to make the best movie."
Beall also co-wrote The Legend of Conan with Chris Morgan. He confirmed that their film begins on the final image of 1982's Conan the Barbarian, with Conan sitting on the throne, his hand on his chin.
"It opens there," Beall said. "It opens with this [hand on the chin]. It's where you have to. It's the sequel that we were promised and never got. I'm 11 when my father took me to see Conan the Barbarian which you should never take an 11-year-old kid to. It was a life changing thing. It's an unbelievable movie. It comes back to [director John] Milius, right? There's nobody better and it's a real movie. It's a truthful movie. Chris and I from the very beginning said there's no reason to do it unless it's a worthy sequel to Milius's Conan and I think we've got that. I really do."
Legend of Conan remains in active development. "Chris and I are continuing to hone," Beall said. "I think that's going to be a great movie actually."
Beall also worked on a Robin Hood script, but does not know if it is moving forward. "We got a script that I think is really cool and has real potential," Beall said. "I don't know what the appetite in the marketplace for a Robin Hood movie is. All that shit's above my pay grade."
Aquaman is due in theaters July 27, 2018. Training Day could be a midseason series on CBS.