Rumor: Joss Whedon To Direct 'Flash' / 'Supergirl' Musical Crossover Episode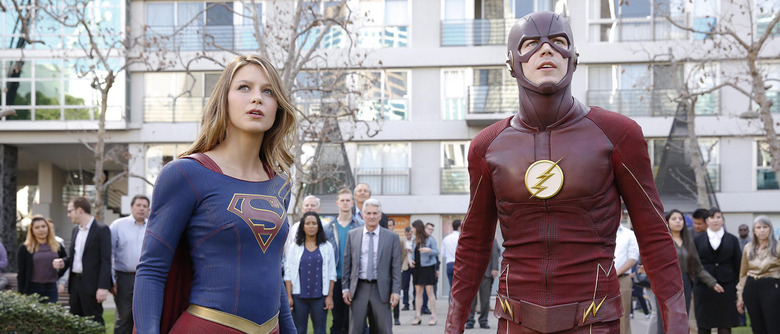 Last week brought the excellent news that the Flash / Supergirl musical crossover episode that fans have been hoping for would actually, finally become a reality in the upcoming TV season. Naturally, the next question on everyone's minds was who would be responsible for bringing this spectacularly weird, endearingly geeky event to life. Well, according to a new rumor, the CW DC shows have booked none other than Joss Whedon to direct. 
The Flash Supergirl Joss Whedon rumor comes from The Hashtag Show, who claims Whedon is "locked" for the two-part musical crossover episode. Additionally, they've heard the villain of the arc will be the Music Meister, created in 2009 for a musical episode of Batman: The Brave and the Bold. Whedon's Dr. Horrible's Sing-Along Blog star Neil Patrick Harris voiced the villain on that show, so The Hashtag Show further speculates Harris will reprise the role for the Flash / Supergirl musical.
At this point, we should caution you to take all of these details with a healthy scoop of salt. The CW has confirmed that a Flash / Supergirl crossover is in the works, but has not officially revealed any information about who'll direct, who'll guest star, or what the plot will be. The report could turn out to be premature or just purely speculative.
If it's accurate, though, Whedon would be an obviously ideal choice. For starters, the very premise of a Flash / Supergirl musical crossover episode sounds like exactly the kind of quirky thing that Whedon would do. The "Once More, with Feeling" episode of Buffy the Vampire Slayer is a classic of the musical episode trope. Indeed, The Flash executive producer Todd Helbing admitted to IGN that they'd looked to that episode for inspiration. "The amount of times that Buffy is brought up in our writers room is crazy," he said.
Whedon has also directed the musical miniseries Dr. Horrible's Sing-Along Blog, and an episode of Glee (though his work on the show did not overlap with Benoist and Gustin's stints on the series). Plus, he knows his way around superheroes — not only did direct Marvel's The Avengers and its sequel, but he was also once attached to make a Wonder Woman movie that never came to fruition. But again, we don't know for sure yet whether Whedon will take on the Flash / Supergirl musical.
What we do know is that the musical will come around episode 13 or 14 of the upcoming seasons of Supergirl and The Flash. Exeuctive producer Greg Berlanti told press at TCA that the episodes would use "mostly pre-existing songs," a la Glee, but that they are "trying to write at least one original song per episode." Berlanti and his team haven't said how exactly the Flash and Supergirl would find themselves in a musical episode, but hinted, "There'll probably be an element of being inside a character's head sometimes."
Benoist and Gustin are expected to lead the two-part musical crossover episode, of course, but they're far from the only Arrowverse stars with singing chops. Gustin's The Flash co-stars Jesse L. Martin, Tom Cavanagh, and Carlos Valdes have Broadway experience, as does Benoist's Supergirl co-star Jeremy Jordan. And if the episode wants to pull in characters from still other CW DC shows, Legends of Tomorrow's Victor Garber and John Barrowman have been known to carry a tune as well.