'The Nightly Show With Larry Wilmore' Has Been Canceled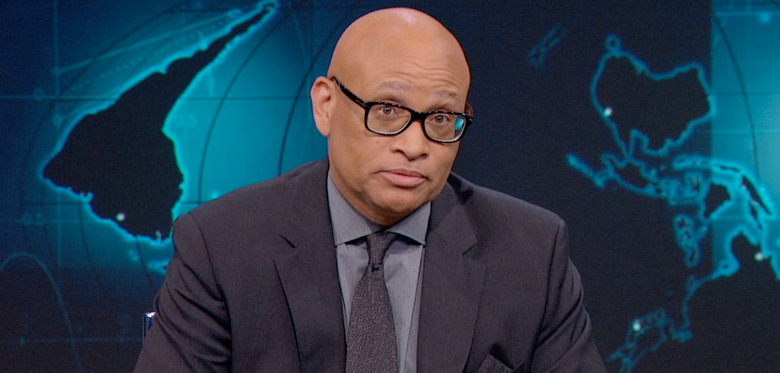 The late night programming at Comedy Central was shaken up at the end of 2014 when The Colbert Report came to an end so host Stephen Colbert could move on to host The Late Show, which was about to be vacated by longtime host David Letterman. But Comedy Central attempted to keep the timeslot following The Daily Show with Jon Stewart rolling with some replacement political satire from a former Daily Show correspondent in the form of The Nightly Show with Larry Wilmore. But sadly, the time slot has been vacated again as the show has been canceled.
News of The Nightly Show canceled comes from The New York Times, revealing that this Thursday's episode will be its last. Comedy Central president Kent Alterman released a statement about the cancellation saying:
Even though we've given it a year and a half, we've been hoping against hope that it would start to click with our audience, but it hasn't happened and we've haven't seen evidence of it happening. We were hoping that we would get a turnaround along the way including the wild, wild two weeks of the conventions. We just haven't seen it on any level from the general conversation to ratings to any sort of traction on social media platforms.
Indeed, the ratings for The Nightly Show have been nowhere near what they used to be for The Colbert Report. Episodes of The Nightly Show have been pulling in an average 776,000 compared to The Colbert Report's numbers at 1.7 million. And even in this crazy election cycle, I can't recall any segments from The Nightly Show becoming super popular online as they have from The Daily Show with Trevor Noah or Last Week Tonight with John Oliver.
If it seems odd that Comedy Central would pull the plug on a political satire and commentary show like this during the election, it came down to the timing of when Larry Wilmore's contract needed to be renewed. Contracts for Wilmore and some other staff members would have expired in a few weeks, so Comedy Central needed to figure out what they were going to do sooner than later.
Larry Wilmore is taking the cancellation in stride, but also couldn't help make a joke about the situation, referencing their ongoing election coverage at the show:
I'm really grateful to Comedy Central, Jon Stewart, and our fans to have had this opportunity. But I'm also saddened and surprised we won't be covering this crazy election or 'The Unblackening' as we've coined it. And keeping it 100, I guess I hadn't counted on 'The Unblackening' happening to my time slot as well.
In addition to the usual political fare, The Nightly Show focused more on racial issues and tension than competing shows have, which came as no surprise since Larry Wilmore was often credited as the "Senior Black Correspondent" when appearing on The Daily Show. Presumably, Comedy Central thought Wilmore could boost the African-American audience at the network and add a little diversity to the late night arena that is mostly dominated by white men (though Samantha Bee has made a dent on TBS). But clearly the show never really got any traction with a big audience.
Personally, I think there are two problems with the show. First, I think Larry Wilmore's dry sense of humor and personality only works in small doses. He's just not engaging or passionate enough in his presence behind the desk. Second, for a show that was on Comedy Central, the show's panel segments would often go for long stretches without providing any laughs. That's not necessarily a bad thing when you're trying to talk about some serious issues, but don't forget this is a show on a network called Comedy Central.
Comedy Central will move @midnight to the 11:30pm ET timeslot until a replacement for the show is found sometime next year. That leaves Trevor Noah with doing the heavy lifting at Comedy Central, which he's already been doing pretty decently over there. Though the show doesn't have the same flair that it did when Jon Stewart hosted the show, the election has really helped The Daily Show figure itself out. Some say the show is struggling, and the ratings support that, but Kent Alterman says:
In the last couple of weeks — leading up to the conventions and especially the conventions — we feel like Trevor got to a whole new level in terms of having a strong voice and point of view. It's been no surprise to us. We expected him to take time to find his rhythm and find his way.
Even so, this year marks the first time in 16 years that The Daily Show was not nominated for an Emmy. That's not surprising given the drastic transition, but the show is still only pulling in 1.3 million viewers compared to the 2.1 million that were tuning in over the last year of Jon Stewart's time at the program.
Given some time, I think The Daily Show with Trevor Noah can get stronger, but it remains to be seen if Comedy Central will continue to be patient for that to happen. With Jon Stewart bringing his brand of humor to HBO, it might prove difficult to keep audiences interested in The Daily Show without him, but hopefully Comedy Central can keep their late night programming going strong.