Kenny Baker, The Man Inside R2-D2, Has Died At 81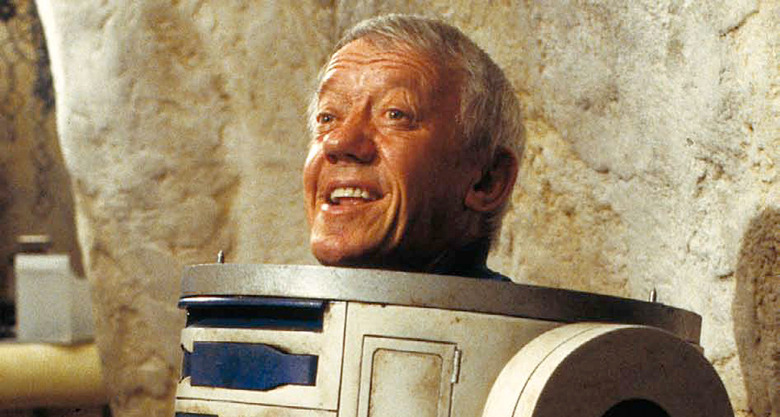 This weekend brings some sad news for Star Wars fans. One of the most beloved characters in the entire sci-fi saga is R2-D2, the astromech droid who has been the longtime counterpart of C-3PO. Though the character is a droid who can easily be brought to life with the magic of visual effects today, in the days of the original Star Wars trilogy, he was controlled by the 3 foot 8 inch tall actor Kenny Baker. Sadly, the actor has died at age 81.
News of Kenny Baker dead was confirmed by the actor's niece Abigail Shield who told The Guardian:
"It was expected, but it's sad nonetheless. He had a very long and fulfilled life. He brought lots of happiness to people and we'll be celebrating the fact that he was well loved throughout the world. We're all very proud of what he achieved in his lifetime."
In addition to his role as R2-D2 (which was carried into the Star Wars Holiday Special, an appearance on The Muppets Show and more), which continued into all of the Star Wars prequels and even a small part in The Force Awakens despite the ability to create R2-D2 completely with digital effects, Baker starred in several other sci-fi and fantasy films. His appearances included roles in Amadeus, Labyrinth, Time Bandits, Willow and The King and I.
Plus, even though Kenny Baker is best known for his role as R2-D2 in the Star Wars films, Return of the Jedi gave him the opportunity to play an Ewok named Paploo alongside his Willow co-star Warwick Davis.
Kenny Baker's life is remarkable outside of his participation in the Star Wars films if only because doctors had originally told him that he would not survive into adulthood. Shield explained:
"When he was a child, he was told that he probably wouldn't survive through puberty, being a little person in those times, they didn't have a very good life expectancy. He did extremely well in his life. He was very ill for the last few years so we had been expecting it. He had been looked after by one of his nephews, who found him on Saturday morning."
Imagine being told at a young age you wouldn't make it into adulthood. That's terrifying. But Baker defied the odds and ended up living a life that has had an impact on billions around the world. He made into into his early 80s, and even some of the healthiest people don't live that long. We're all very fortunate to have had him as part of our lives on the big screen. Our thoughts go out to his friends and family during this difficult time. Rest in peace.