Former WB Employee Says 'Wonder Woman' Is "A Mess"; Director Patty Jenkins Responds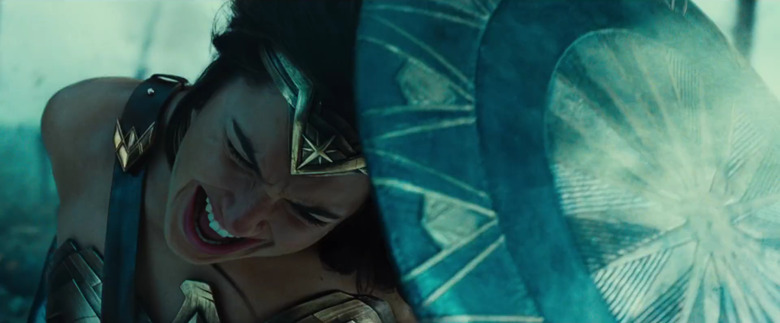 A pattern is emerging from Warner Bros.' DC universe movies, and it's not an encouraging one. First Man of Steel got the franchise off to a shaky start, drawing mixed reviews and polarizing fans. Batman v Superman: Dawn of Justice was supposed to get the series back on track, but instead just seemed to derail it further. So pressure fell on Suicide Squad to turn things around... only for Suicide Squad to prove just as divisive as its predecessors.
Which means all eyes are now on next year's Wonder Woman to save the day. After all, the character was one of the highlights of Batman v Superman, and the first Wonder Woman trailer absolutely killed at Comic-Con. If anyone can make things right, it might be Gal Gadot's Diana Prince. Or so we thought. But according to an anonymous insider, Wonder Woman is "a mess" as well. Naturally, director Patty Jenkins disagrees.
Word of Wonder Woman's potential woes comes from a scathing open letter to Warner Bros. CEO Kevin Tsujihara, penned by a former employee. "Gracie Law" takes Tsujihara to task for delivering a string of flops and disappointments, up to and including Suicide Squad. Tsujihara has nevertheless held on to his job, as have top-level talents like Zack Snyder, while those lower down the ladder lose their jobs every time Warner Bros. turns in another stinker. The whole essay is well worth reading in full, but here's the relevant part for Wonder Woman fans:
What are you even doing? I wish to God you were forced to live out of a car until you made a #1 movie of the year. Maybe Wonder Woman wouldn't be such a mess. Don't try to hide behind the great trailer. People inside are already confirming it's another mess. It is almost impressive how you keep rewarding the same producers and executives for making the same mistakes, over and over.
Okay, let's get a few caveats out of the way. First, "Gracie Law" is an "angry" former employee, so maybe not someone predisposed to seeing Wonder Woman in the most favorable light. Next, Wonder Woman's release is still 10 months away. (It's set for June 2, 2017.) It's not a great sign that insiders are already whispering about Wonder Woman being another misfire, but plenty of wonderful movies have come out of troubled productions, and the filmmakers still have time to fix some issues. It's far too early to say how the finished theatrical cut of Wonder Woman will turn out, so we can't write it off completely at this point.
And for what it's worth, director Patty Jenkins insists the reports are "made up."
Woah, just saw this press about WW having problems. Are they serious? This is some made up bs right here. Made up! Produce a source, anyone.

— Patty Jenkins (@PattyJenks) August 12, 2016
Zero about the movie we are making has been called a mess by anyone in the know. Fact.

— Patty Jenkins (@PattyJenks) August 12, 2016
All that said... is anyone really shocked to hear Wonder Woman might be in trouble? Suicide Squad was plagued by rumors of extensive reshoots, and after the film came out we got even more reports about its behind-the-scenes woes. Batman v Superman, too, was getting bad buzz before it had even screened for critics, and only got worse buzz once reviewers and everyday fans had actually seen it. It's deeply disappointing to hear Warner Bros. might be screwing up Wonder Woman. But given their track record, frankly, it might be more surprising if they somehow managed to get it right.
It's true that all three films have raked in plenty of money, if not quite as much as the studio might have hoped. (For example, Batman v Superman's $872 million worldwide gross is impressive, but well short of the billion-dollar mark cleared by competitors like Marvel and Lucasfilm.) But if Warner Bros. keeps disappointing audiences, eventually they're going to run out of chances to turn the franchise around. And if there's one thing we've learned this brutal summer, it's that sequels are not a sure bet. If a moviegoer has already seen and disliked Man of Steel, Batman v Superman, and Suicide Squad, what incentive do they have to turn out for Wonder Woman, Justice League, The Flash, Aquaman, Cyborg, and Green Lantern Corps?
Warner Bros. has made some much-publicized efforts to right the ship. They got Ben Affleck to executive produce Justice League, and reduced the role of producer Charles Roven. They created a DC Films division and set Geoff Johns and Jon Berg to lead it. The Flash lost first-time director Seth Grahame-Smith, and picked up the more experienced Rick Famuyiwa. They invited a bunch of journalists to the set of Justice League and tried like hell to say all the right things. So it's not as if the studio has somehow failed to notice that their DC universe is struggling. For the sake of everyone at Warner Bros. and all of us who watch their movies, let's hope those measures are enough.