'SNL' Alums Jay Pharoah And Taran Killam Head To Showtime For New Series [TCA 2016]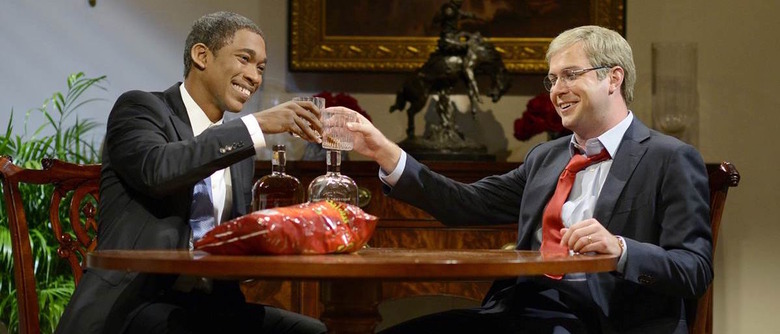 Earlier this week, Saturday Night Live confirmed that cast members Jay Pharoah and Taran Killam were leaving the show. Now we know what they're doing next. During their Television Critics Association presentation, Showtime announced two new series: White Famous, starring Pharoah, and Mating, starring Killam. Asked if he discussed both actors with SNL producer Lorne Michaels, Showtime Networks, Inc. President and CEO David Nevins said he would have worked around SNL had they stayed, but the deals did not include reaching out to Michaels.
"Our conversations have been with the actors," Nevins said. "It's been happening over the last several weeks, probably over a month individually. We were prepared to work around their SNL schedules. Our schedule got easier when they ended up being released from the show." 
During his opening remarks, Nevins described the premise and creatives behind each show. First, Pharoah will star in the Jamie Foxx-created White Famous.
"This summer we are making a new comedy pilot based on an original idea from Oscar winner Jamie Foxx, called White Famous," Nevins said. "The project will be executive produced by Jamie and written and executive produced by Tom Kapinos, who did seven seasons of Californication for us. The project is about what it takes for an African-American comedy star to become 'white famous' and all the hidden costs and compromises that come from being pushed to cross over to a mainstream audience, subject matter that Jamie knows very well. Jamie will guest star in a recurring role, and Tim Story, who directed the original Barbershop and Fantastic Four films, as well as the Ride Along and Think Like a Man films, will executive produce and direct the pilot. I am pleased to say we have cast Saturday Night Live's Jay Pharoah in the lead role."
Killam will star in a romantic comedy from the creator of TV's Parenthood and Friday Night Lights. "In additional development news, we're moving forward with the pilot for Mating, our half-hour comedy from Jason Katims and Stu Zicherman, with the hilarious and talented Taran Killam playing the lead," Nevins said. "Mating is about a guy who married young, is newly divorced, and now finds himself completely unprepared for the brave new, frank, and fluid world of dating and hooking up."
Both Killam and Pharoah had been with SNL since the 2010-2011 season. Check back on /Film for more news on Showtime's TCA announcements.