'War On Everyone' Trailer: Alexander Skarsgård And Michael Peña Play The Cops From Hell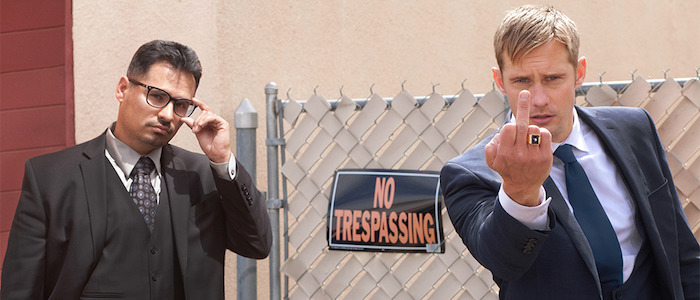 I like to imagine Martin McDonagh and John Michael McDonagh in a constant state of sibling rivalry, with each brother looking to top the other with every project. Martin wrote the masterful stage play The Pillowman (among others) before making one of the best crime comedies of the past decade with In Bruges. John made a strong directorial debut with 2011's pitch-black buddy cop comedy The Guard and topped himself with 2014's Calvary. I've reached the point where any movie bearing the McDonagh name feels like a priority.
And that makes John Michael McDonagh's new film, War On Everyone, a priority. The new trailer is all the evidence to I need to know that yes, his distinctive, cynical, and hilarious voice is still ringing loud and clear.
The film stars Alexander Skarsgård and Michael Peña as two impossibly corrupt Albuquerque cops who spend their days engaging in irresponsible violence and blackmail, making a tidy profit at the expense of every crook unfortunate enough to enter their vicinity. But as is often the case with stories like this, they go after the wrong guy, get in over their heads, and have to face the bloody consequences.
War On Everyone may take place a continent and an ocean away from his previous movies, but this is so clearly a John Michael McDonagh movie. This trailer showcases a dry wit, an innate cynicism, and a penchant for extreme violence in the name of comedy. McDonagh is like Shane Black infused with a deep sense of Catholic guilt and no desire for everyone to find their happy ending. It looks bleak and hilarious and a perfect antidote to the buddy cop movies that feel the need to play nice.
Here's the official synopsis:
In Albuquerque, New Mexico, Terry Monroe (Skarsgård) and Bob Bolaño (Peña) are two corrupt cops who set out to blackmail and frame every criminal unfortunate enough to cross their path. Things take a sinister turn, however, when they try to intimidate someone who is more dangerous than they are. Or is he?
Known for his distinctively witty sensibility and confrontational humour, McDonagh previously wrote and directed the acclaimed drama Calvary, starring Brendan Gleeson, and offbeat comedy The Guard, also starring Gleeson alongside Don Cheadle, which became a worldwide sleeper hit.
War On Everyone is set to open in the U.K. on October 7, 2016. A North American release date has yet to be announced.