'Rocko's Modern Life' Is Also Getting A TV Movie Revival At Nickelodeon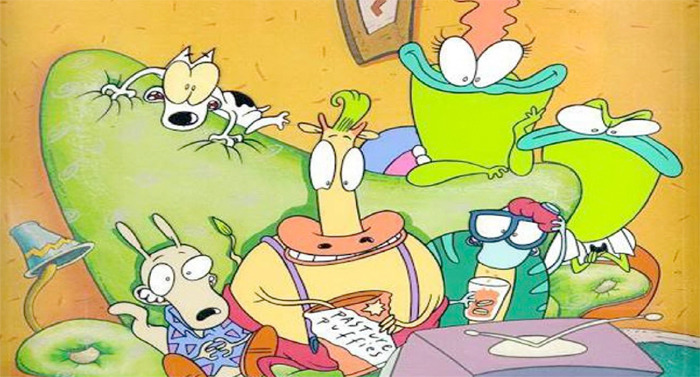 The nostalgia train and Nickelodeon just keeps on chugging along. We've got the TV movie adaptation of the game show Legends of the Hidden Temple coming later this year and the Nicktoon revival of Hey Arnold! in the form of a TV movie on the kids cable network is on the way too. Now one more of Nickelodeon's iconic cartoon is coming back with a TV movie of its own.
Rocko's Modern Life is easily one of the strangest cartoons Nickelodeon had on its roster, mostly because it contained a surprising amount of adult humor and pop culture references that went right over kids' heads. Perhaps the only other show ahead of Rocko's Modern Life in this regard is Ren & Stimpy, by leaps and bounds. Now the cartoon from Joe Murray will get a one-hour TV special that will bring audiences back to O-Town for the first time in 20 years.
Find out more about the Rocko's Modern Life movie after the jump.
Rocko's Modern Life ran for four seasons from 1993 to 1996 with a total of just 52 episodes (though each typically had two stories told in each episode like most Nicktoons around that time). The show followed an Australian wallaby living in a city called O-Town with his dog Spunky. Each story followed Rocko's misadventures with his dimwitted, hungry steer friend named Heffer (who was raised by a family of wolves), their nerdy, neurotic friend Filburt Turtle, and Rocko's next door neighbors Ed & Bev Bighead, a family of toads who sometimes had entire stories to themselves.
Nickelodeon Animation Studios will produce the Rocko's Modern Life TV movie, and Joe Murray couldn't be more excited about it. He told Entertainment Weekly:
I'm very happy to be rejoining Rocko and my friends from O-Town again. What I have found by bringing these characters back is that it's not so much about nostalgia, but a sense that they still feel relevant and fresh to me, and after 20 years, they can't wait to comment on modern life in the 21st century. They still have a lot to say.
Rocko's Modern Life was one of my favorite cartoons as a child of the 90s, and having since rewatched the show as an adult, I can say that not only has it aged well, but it's actually gotten much funnier in some ways because of the adult humor that's still present. Easily my favorite episode run was the arc that followed the creation of the series "Meet the Fatheads" by Ed and Bev Bighead's son. But as far as standalone episodes go, my favorite was undoubtedly "Popcorn Pandemonium," which all takes place in a movie theater.
Confirming Nickelodeon's recent love for living in the past, Chris Viscardi of Nickelodeon Franchise Properties says:
Greenlighting a Rocko's Modern Life special is another strong example of how we are bringing our library content back for both new audiences and the generation that grew up on them in the '90s. It's a testament to the strength and appeal of these characters that so many people have loved Nick animation for these last 25 years, and we are excited to bring them back for new stories and adventures.
As of now, we don't know when the Rocko's Modern Life movie will debut, but we'll keep you posted.