Stephen Colbert Could Host Live Election Night Special For Showtime [TCA 2016]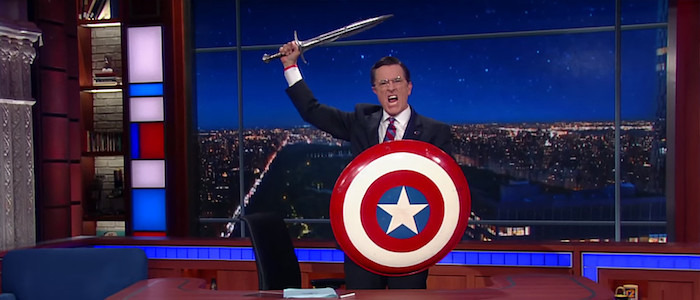 Showtime presented the final sessions of the Television Critics Association winter press tour. During his executive panel, Showtime Networks Inc. President and CEO David Nevins revealed his hope of having Stephen Colbert host a live special on election night. While there were no deals to announce, Nevins was confident that all would fall into place by November 8.
"I think it's going to happen," Nevins said. "I want to do it. Stephen wants to do it. The studio wants to do it. It will be Colbert unfettered. He's promised he will say a few curse words. He's not on CBS that night anyway. I just think it'll be really fun." 
In his first year hosting The Late Show at 11:30, Colbert tried to distance himself from the politically conservative character he played on his Comedy Central pundit show spoof The Colbert Report. He does still cover politics and has had both Donald Trump and Hillary Clinton on The Late Show. Last month when he started bringing back the old Colbert, his former employer Viacom claimed they own the character he created on their network. After Nevins' panel, he spoke with reporters further. He couldn't comment on Colbert's negotiations over his character, but that's not exactly what he's looking for for Showtime.
"I'm not in the middle of whatever's going on about what his character is," Nevins said. "He can take what he's doing on the CBS show and bring it here, but do it a little bit unfettered. It'll be interesting to see what Colbert does with no commercial breaks, no language restrictions. He's excited about it. He's never done that before so that'll be a new thing."
CBS will air The Late Show live on the nights of the presidential debates September 26 and October 19, and the vice-presidential debate October 4. Nevins anticipates a one-hour special on November 8, but should live results and breaking news warrant more coverage, it could go late. "I'm anticipating 10-11 [PM]," Nevins said. "However, if stuff is really happening and it's going, I have contingencies to keep rolling."
While Nevins' plan for the election night special is more CBS than Comedy Central, he wants to see a different side of Colbert too, but in Colbert's familiar surroundings. "We haven't worked out the details," Nevins said. "I don't want it to be exactly the same, but it's going to be in the same studio."
More news on Showtime's TCA announcements to come on /Film.