'Twin Peaks' 2017 Episodes Run Over 60 Minutes Or Release Different Streaming Versions [TCA 2016]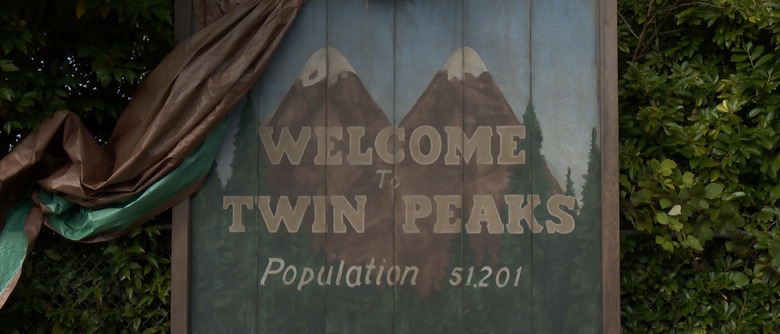 Near the beginning of his introduction to the Television Critics Association, Showtime Networks Inc. President and CEO David Nevins was discussing episode counts for his original series. Of the upcoming Twin Peaks, he said, "We don't even know for sure how many episodes there will be."
Showtime had a little bit to share with the TCA from 2017's Twin Peaks return. A clip package featured actors behind the scenes describing vaguely how surprising and true to the original series it is, but no footage. We did see them unveil the old "Welcome to Twin Peaks" sign, and a group of suits led by James Marshall walking down the street. 
Nevins confirmed that filming has wrapped on Twin Peaks and David Lynch is editing the series. He promised a premiere in the first half of 2017. As for episode count, President of Programming Gary Levine explained why they have not finalized it.
"It is a fluid process," Levine said. "David Lynch who is doing it all, he co-wrote with Mark [Frost], he directed every episode, he's editing every episode, scoring every episode. It's a process of seeing how it evolved. That organism continues to evolve. Until he's figured that out and shows it to us, we actually won't know."
Episodes won't have to conclude within 60 minutes either. On Showtime, episodes could run longer. After the panel, Levins spoke with reporters further about how Twin Peaks might air, saying he's open to changing the standard length of a show.
"I'm definitely open," Nevins said. "Everything about Twin Peaks is going to be unconventional. Unconventional in the handling of it and how we put it out in the world and how we market it. I want to really embrace the unusualness of it. I think it is quite possible we're not going to do a traditional release pattern. I don't know exactly what that means yet. I've had a couple conversations with David but I want to embrace the unexpectedness of it. I could definitely see longer episodes or this question of how do we release it linearly and how do we release it for people who want to stream it. There may be some difference between the two. There's all sorts of possibilities."
He is not, he said, considering releasing the entire season at once like streaming series do. According to Nevins, he accepted the series based on two scripts but did see the complete season script before production began. Levine added that the season-long script was not divided into episodes.
"David Lynch personally hand-carried binders that were yea thick with combined efforts of their writing," Levine said. "It was never a prescribed number of episodes in that way and continues to evolve through the filming and editing process."
Although they have not released any clips, the executives have begun to see footage. "We're about to start seeing actually cut footage which is obviously more meaningful than dailies," Nevins said.
Levine added, "In watching a little bit of dailies of Twin Peaks, we were both just instantly transported. It was really amazing. These weren't even cut scenes. David was happy to share some of it with us. This is obviously a very unique partnership on this series and he's earned that right. Boy, just looking at the dailies, the tone, the feel. It is so singular, we can't wait to show it to the world."
After the panel, Levins described the footage in a bit more detail. "Masterful," Nevins said. "It's really gorgeous and it has that feeling of sort of unsettling, eerie mystery but also stuff that's really funny. I think it's got a real sense of incredible specificity of Lynch's characters."
Nevins said he speaks with Lynch "every week or two."
More announcements on Showtime's new series and renewals to follow on /Film.