'Captain Marvel' Origin Story Will Be Changed A Bit Thanks To Another Superhero Origin Story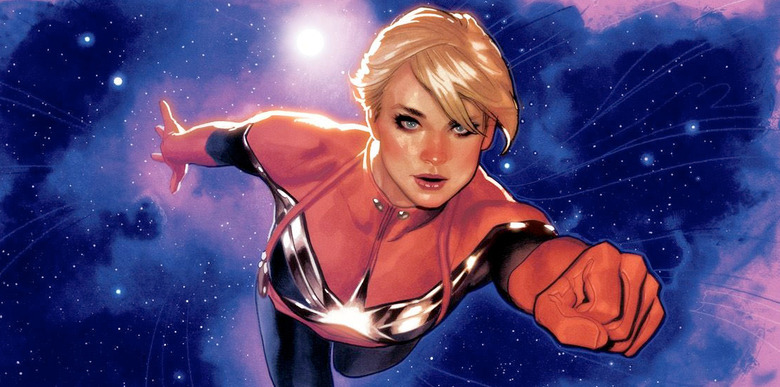 Now that Brie Larson has been officially announced to take the lead role in the forthcoming cosmic superhero flick Captain Marvel, we can start talking about the finer details of the movie. The good news is we'll get to see Captain Marvel in action in The Avengers: Infinity War, something that was accidentally revealed by Anthony & Joe Russo awhile back. But what about the hero's own film? What can we expect from her first solo adventure? Well, for one thing, she'll have a different origin story.
Find out why we're getting a new Captain Marvel origin story after the jump.
Captain Marvel co-writer Nicole Perlman recently appeared on the Any Time With Vin Forte podcast (via CBM), and she revealed that the origin being crafted with fellow writer Meg LaFauve will be different from how the character came to power when she debuted in the 1960s. And while she wouldn't explain how the origin would differ from the original incarnation of Captain Marvel, Perlman did explain why this change is being made for the Marvel cinematic universe:
I don't think I've ever had a project where I've been more mindful about the impact that it could have and the importance of it. She's such an incredibly kick-ass character and Kelly Sue DeConnick did a great run with her story arc recently. But here's the thing, if you were just going to do a straight adaptation of the comics, her origin story is very similar to Green Lantern. And obviously, that's not what we want to do. There's a lot of reinvention that needs to happen. And also, she's her own person and she's a great character. We have to be aware of what's happened in other Marvel film and makes sure that her particular storyline is unique and fun and also fits in within this world that's going on at the same time. It's a little bit of an interesting story gauntlet. It's been good to have a partner. It's been an incredible experience. If we can pull it off it could be an incredibly important but also really fun and kick-ass superhero film.
For those who don't know, in the comics, the character of Carol Danvers was actually the love interest of a character who was already known as Captain Marvel. He was a Kree warrior called Mar-Vell who was in disguise on Earth. However, Carol's life changed when she was caught in an explosive blast caused by a Kree superweapon called the Psyche-Magnetron, causing her DNA to merge with Mar-Vell's and giving her the powers of Captain Marvel.
More recently, the origin story was tweaked to make the character a little more active in her acquisition of these powers. After all, it's a little passive for a strong female character to be a love interest who simply inherits her powers from a male alien superhero. So the newer origin from Sue DeConnick's run on the character created a time paradox where the future Carol Danvers ensured that her past self would be caught in the explosive blast, essentially making her responsible for obtaining those powers. That doesn't make much sense, but that's time travel for you.
However, the way Perlman talks is that the concept of Carol getting her powers from an alien source will be tossed out because of the similarities to Green Lantern, the last movie any new superhero flick wants to be compared to. So the question now is how will she get her powers? Since Captain Marvel won't get released until March 8, 2019, and we're still waiting to get a director on board, we'll be waiting awhile before we get that answer.