'Mr. Church' Trailer: Eddie Murphy Gets Serious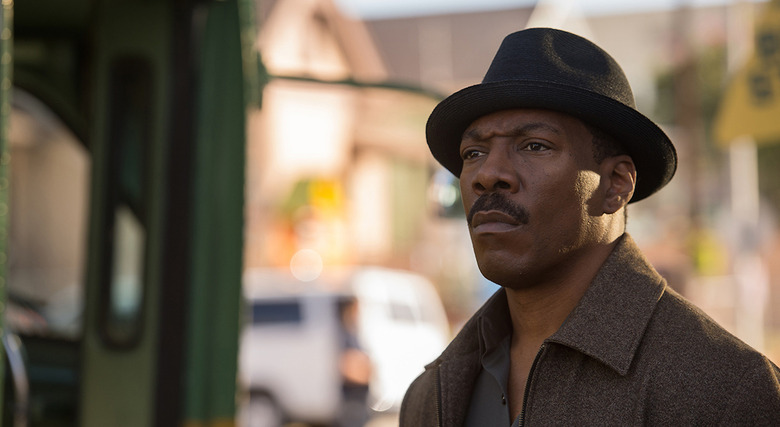 It's been a while since we've seen Eddie Murphy stretch his dramatic muscles. Heck, it's been a while since we've seen Eddie Murphy at all. His last film was A Thousand Words, released all the way back in 2012. But he's back this fall, and with his most dramatic role since 2006's Dreamgirls.
Murphy leads Mr. Church as Mr. Church himself — a cook hired to care for a young girl (Britt Robertson) and her dying mother (Natascha McElhone). What was supposed to be just a job blossoms into a lifelong friendship. It's directed by Bruce Beresford, which seems appropriate since Mr. Church definitely has strong Driving Miss Daisy vibes. Watch the Mr Church trailer below. 
The Mr. Church trailer looks like a throwback, and not really in a good way. The racial dynamics seem regressive (like the kind of thing we would've expected to see 27 years ago, when Driving Miss Daisy hit theaters), the emotions feel overwrought, and the characters look two-dimensional. Granted, it could be that the trailer is cut poorly and isn't really representative of the movie at all. But the Mr. Church reviews from its Tribeca premiere aren't terribly encouraging, either.
Consequence of Sound's Nico Lang's  called it an "unusually bad melodrama," sniffing, "As a piece of storytelling, Mr. Church is about as enjoyable as a plague of locusts." Indiewire's Kimber Myers was slightly more forgiving in its C- review, but not by much. "With its vintage setting and outdated views on race, Mr. Church feels like the ghost of cinema's past," they wrote. "It flails for the heartstrings, but instead of reaching them, it only tugs at that muscle that makes you roll your eyes at its old-fashioned, melodramatic attempts at emotion."
On the bright side, several of the reviews praised Murphy's work in the movie. Indiewire's David Ehrlich wasn't taken with Mr. Church as a whole (he gave it a C grade), but called Murphy's performance one of his best, and added, "We can only pray that this is the start of a new chapter in his career." And The Hollywood Reporter's Frank Scheck, who liked Mr. Church more than most, raved, "Murphy delivers the sort of superb character turn that may well mark a sea change in his career." Seeing as Murphy doesn't have any films scheduled for the next few years (save the long-developing Richard Pryor biopic and even longer-developing sequels to Twins and Beverly Hills Cop), we might want to savor his work when we can.