'Fanatstic Beasts' First Look: Meet Clarence Barebone, Played By Ezra Miller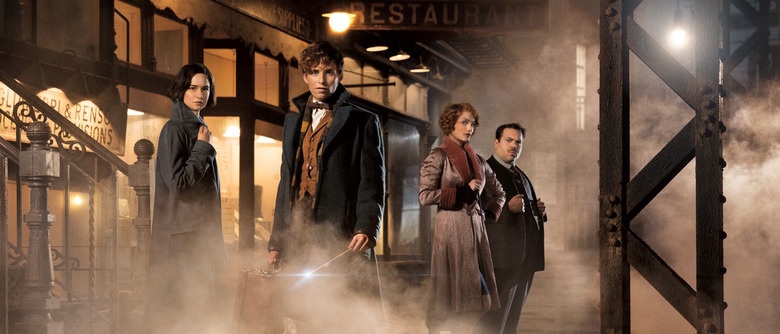 We've already seen a bit of Ezra Miller as the Flash in Warner Bros.' growing DC universe, but today we've got a look at his role in the studio's other flagship franchise. Miller stars in the Harry Potter spinoff Fantastic Beasts and Where to Find Them as Credence Barebone, a shy young man who comes under the sway of a powerful auror played by Colin Farrell. 
Entertainment Weekly shared the first Ezra Miller Fantastic Beasts photo (in case you couldn't tell from the giant watermark).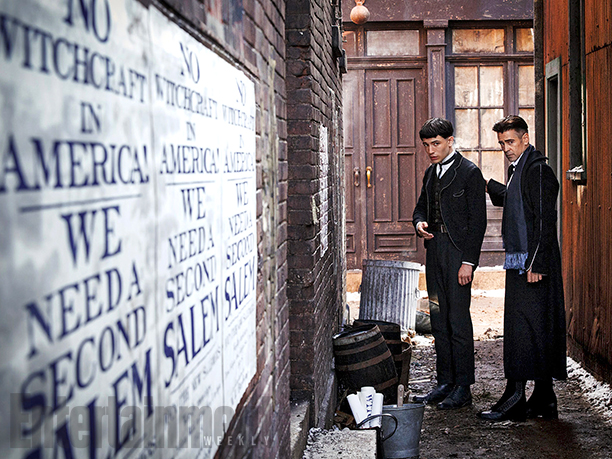 Clarence is the adopted son of Mary Lou (Samantha Morton), who sounds like a real jerk. Not only is she abusive toward her kid, she's the leader of an anti-wizarding organization that wants to bring about another Salem Witch Trials. You can see some of their posters in the image above. Due to his upbringing, Clarence is painfully shy and lonely, which makes him all the more vulnerable to manipulation when he catches the attention of Percival Graves (Farrell), Director of Magical Security.
Not surprisingly, Miller isn't allowed to say much about his role in Fantastic Beasts. But he is apparently more than free to gush about how excited he is to be part of the film. "[G]etting the role was a moment of absolute ecstatic joy and sort of transcendent sense of completion," he said. "I was doing some sort of slightly epileptic dance in the street of New York City, dropping to my knees, crying, praising the heavens, with people looking at me like I should be institutionalized."
While the Harry Potter books occasionally referenced the touchy relationship between wizards and Muggles (or No-Majs as they are called in the States for some reason), Fantastic Beasts clearly plans to dig deeper into the divide between the two worlds. To that end, non-magical characters are a bigger part of the new film than they've ever been before. Dan Fogler plays Jacob, the franchise's first Muggle lead character.
We've also seen references in the marketing to the way Muggles are treated, with Newt (Eddie Redmayne) criticizing the American wizarding community for their "rather backwards" attitude toward wizard / No-Maj relations. Wizards worry that "when No-Majs" are afraid, they attack" but to be fair Muggles have good reason to be terrified here – Fantastic Beasts' main plot sees all sorts of magical creatures getting loose and wreaking havoc on 1920s New York.
Directed by David Yates, Fantastic Beasts and Where to Find Them also stars Alison Sudol, Katherine Waterston, and Carmen Ejogo. It opens November 18.
"Fantastic Beasts and Where to Find Them" opens in 1926 as Newt Scamander has just completed a global excursion to find and document an extraordinary array of magical creatures. Arriving in New York for a brief stopover, he might have come and gone without incident... were it not for a No-Maj (American for Muggle) named Jacob, a misplaced magical case, and the escape of some of Newt's fantastic beasts, which could spell trouble for both the wizarding and No-Maj worlds.