'Don't Breathe' Red Band Trailer: These Kids Really F**ked Up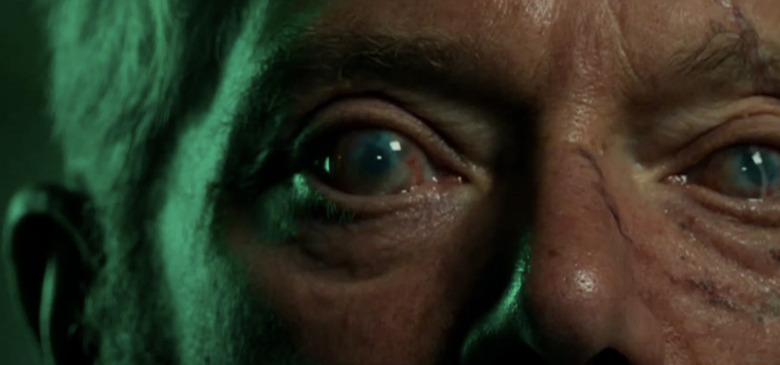 Last month brought the horror thriller Lights Out to theaters, and plenty were terrified by the dark all over again. Now darkness looks to be even more terrifying in the forthcoming horror thriller Don't Breathe. The film from Evil Dead remake director Fede Alvarez horrified audiences at the South by Southwest film festival earlier this year, and now it's coming to theaters in just over a couple weeks. If the first teaser trailer wasn't enough to unnerve you, then this new red band trailer should really push your buttons. There's no nudity, just some blood and salty language, so it's only a little NSFW.
Here's the new Don't Breathe red-band trailer from Sony Pictures:
Honestly, I think the first trailer does a much better job of setting the stage and creating suspense. However, this one does utilize a lot more of the gruesome imagery we're about to see. It also raises some questions about just what else this blind guy (Stephen Lang) is hiding in his house that makes him feel the need to kill all three of these desperate trespassers (played by Jane Levy, Dylan Minnette and Daniel Zovatto).
Our own Jacob Hall was able to see Don't Breathe at SXSW back in March, and in this trailer he gets one of the best pull quotes I've seen, calling the film "shit-your-pants terrifying." In the same breath, he also called the film a "non-stop assault," and even thinks that the film might go too far with its brutality and grossness. His review added:
There's a confidence on display in Don't Breathe that's lacking in most modern horror movies. This is a movie that wants to hurt you, to punch you in the gut and steal your breath. Sometimes you just need a horror film to leave you with a bloody nose.
This sounds like a truly terrifying and exhilarating trip to the movies that I can't wait to take. Even that first green-band trailer is more terrifying than the entirety of most horror films that get made nowadays.
Rocky (Jane Levy), Alex (Dylan Minnette) and Money (Daniel Zovatto) are three Detroit thieves who get their kicks by breaking into the houses of wealthy people. Money gets word about a blind veteran (Stephen Lang) who won a major cash settlement following the death of his only child. Figuring he's an easy target, the trio invades the man's secluded home in an abandoned neighborhood. Finding themselves trapped inside, the young intruders must fight for their lives after making a shocking discovery about their supposedly helpless victim.
Don't Breathe arrives in theaters August 26.