Joel McHale Wants Someone To Leak Star Wars Detours, More X-Files And Playing Chevy Chase [TCA 2016]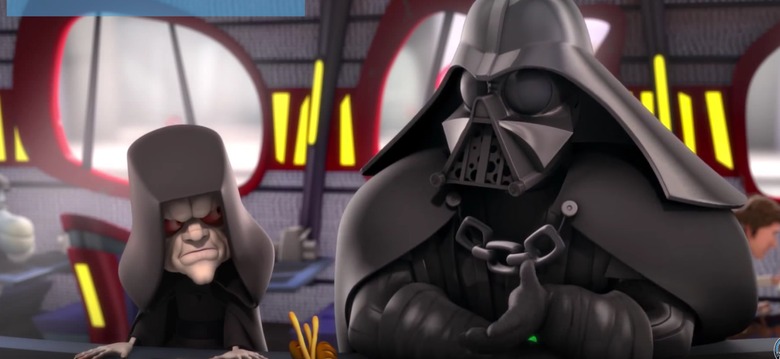 Joel McHale was on a Television Critics Association panel this morning for his new CBS sitcom The Great Indoors. After the panel, McHale spoke with reporters further and talked about the shelved Star Wars Detours animated series, his possible return for more X-Files and playing Chevy Chase in  A Futile & Stupid Gesture.
We got a chance to ask him about his voice work on Star Wars: Detours. Since Lucasfilm decided not to release the animated series, McHale is one of the only people who have seen it.
"It was super funny," McHale said. "You have Seth Green and his crew heading that up. It's really funny. I wish it would be released? Why won't it be released? Some day, someone's got to leak that like the Deadpool trailer."
Before The Great Indoors, McHale also appeared in the recent X-Files revival as Tad O'Malley, a favorite alien conspiracy theorist online. During their TCA session, Fox execs said they were discussing more X-Files with David Duchovny, Gillian Anderson, and Chris Carter. Mchale wants them to talk to him too.
"I hope so," McHale said. "They haven't talked o me yet. Would you talk to them? I would do that in a New York minute if CBS will allow me. That was as much fun as I've ever had in my life so I would love to do it again."
McHale had the most to say about his role in the film A Futile & Stupid Gesture. David Wain directs the Netflix original movie about National Lampoon co-founder Douglas Kenney, played by Will Forte. McHale plays Chevy Chase, who was involved with Kenney and National Lampoon.
"My part is not huge," McHale said. "Will is the main character. I called Chevy to let him know. I was like, 'Hey, do you mind if I play...?' And then we talked a lot about Doug Kenny on the phone call. The movie's not a joke. It's a real look at Doug Kenny and his life, the guy that invented National Lampoon, the guy that wrote Animal House, the guy that wrote Caddyshack and then died. It's a real look at his life and the huge comedy that he created. It's a serious look at that."
Caddyshack was one of Chase's biggest movie hits, and he continued with the National Lampoon's Vacation franchise.
"I'm not playing Chevy as a caricature," McHale said. "I am playing him as the white hot superstar that he was in the '70s and went from a guy doing Lemmings sketches and radio sketches and playing drums to being the biggest star in America. That time in Chevy's life, the movie honors it very well in the script.
McHale and Chase worked together for four seasons on the NBC comedy Community. McHale ultimately realized he was playing a Chevy Chase he didn't know.
"I went back to the time when I was a kid and started watching all his old sketches," McHale said. "It stopped being about oh, I'm playing his guy that I know. I'm playing this character from the '70s."
Chase gave McHale his blessing to portray him.
"He was like, 'Sounds great,'" McHale recalled. "We talked about Doug. In the phone call, he was very happy that they're illuminating Doug's life because he didn't get enough credit. Mel Brooks, Monty Python and the National Lampoon, white comedy was changed forever starting in the '70s. Obviously people like Richard Pryor changed comedy for African-Americans."
A Futile & Stupid Gesture premieres on Netflix in 2017. The Great Indoors premieres October 27 on CBS. McHale also mentioned his upcoming book, Thanks for the Money, which he describes as part memoir, part self-help book that teaches you how to become a celebrity. Thanks for the Money is out October 25.