Jason Momoa To Lead 'The Crow' Remake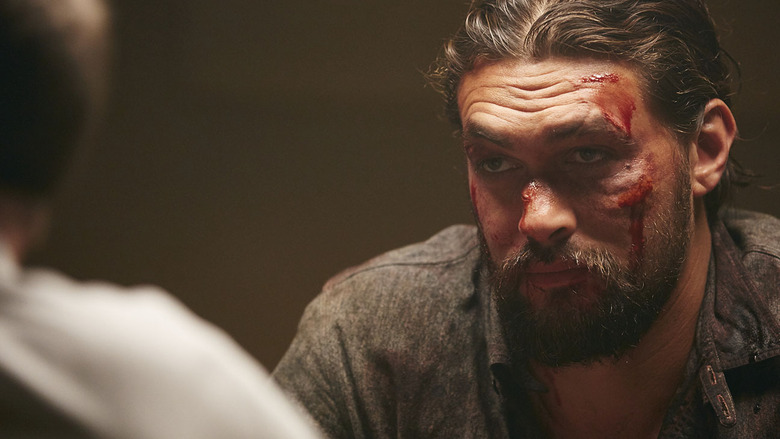 The story behind Relativity's The Crow remake is practically as full of struggle and hardship as the plot itself. For a while it was a revolving door of talent, unable to hold on to a director or star long enough to actually start shooting. Then, just when it looked ready to take flight with director Corin Hardy, it was crippled by Relativity's financial woes.
But now the film could finally get off the ground, with still on board and a new leading man at the forefront. Jason Momoa, the former Khal Drogo and the current Aquaman, is reportedly closing in on a deal to play the undead vigilante at the center of the Crow remake. Previous actors considered for the role include Jack Huston and Luke Evans.
Momoa recently posted a photo of himself and Hardy apparently celebrating a deal over pints of Guinness.
The only way to officially seal the deal as men Is a pint of black beauty. @guinness #sealthedeal #wearemarriednowfucker. #greatnewstocome. #dreamjob #cantwaittotelltheworld ALOHA ED ????????
A photo posted by Jason Momoa (@prideofgypsies) on
The caption doesn't say what project Momoa and Hardy plan to do together, but after some digging Mashable was able to confirm that Momoa is in talks to star in The Crow. Momoa seems like an unexpected choice — he's beefier and more imposing than the lithe, mysterious version of the character played by Brandon Lee in Alex Proyas' 1994 cult classic — but I think he's an interesting and exciting one. He's certainly got the dark, dangerous, grungy vibe down pat already.
Like the old The Crow movie, the new The Crow movie will be based on the graphic novel by James O'Barr. Earlier reports suggested the remake will be more faithful to the source material, but it's been a while since we got a real update on that front so we don't know if the details have changed. The basic premise revolves around a young man named Eric, who along with his fiancée are attacked and left for dead. Eric, however, is resurrected by a crow and sets out to get his revenge.
Momoa got his start on Baywatch and followed up with roles in shows like North Shore and Stargate: Atlantis. But he really blew up after Game of Thrones. He was seen earlier this year in Batman v Superman: Dawn of Justice as Aquaman, and will reprise the DC superhero role for both Justice League, due out in 2017 with director Zack Snyder, and the Aquaman solo movie, due out in 2018 with director James Wan. The Crow will work around Momoa's Aquaman duties.
Outside of the comic book movie world, Momoa also stars in The Bad Batch, from A Girl Walks Home Alone at Night's Ana Lily Amirpour. The film will premiere at the Toronto International Film Festival next month.