'Ocean's Eight' Adds Anne Hathaway, Rihanna & Rapper Awkwafina To The Heist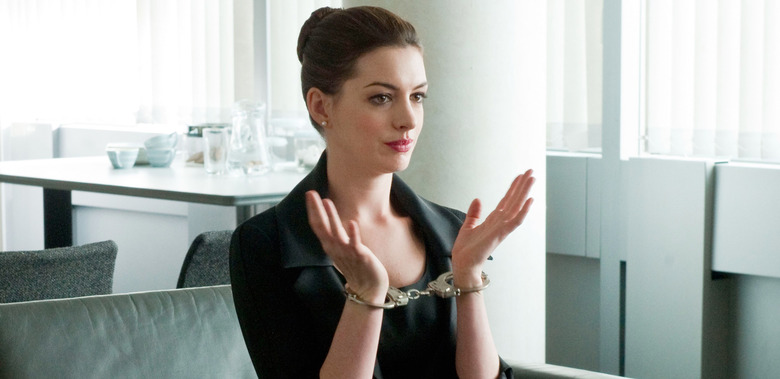 Over the past couple months, the cast of the Ocean's Eleven spin-off Ocean's Eight has slowly been filling out. Sandra Bullock was the first name attached to the project, and we later learned that she would be playing Danny Ocean's sister, who also happens to be a charming ex-con just like her brother. Since then, the cast has added Cate Blanchett, Helena Bonham Carter and Mindy Kaling, but now three more names have just been added to the roster.
Deadline has learned that Oscar winner Anne Hathaway, singer and occasional actress Rihanna, and Asian-American rapper Awkwafina have been added to the Ocean's Eight cast. However, that's only seven of the titular ensemble that have been cast so far, which means there's still one key role left to fill. We're not sure if Elizabeth Banks is still in the running or not, but she was mentioned as a possibility not too long ago.
Anne Hathaway hasn't really taken on a project like this before with Get Smart serving as her only high concept comedy. The same can be said for Rihanna, who has only starred in three films that we've seen so far. They include Battleship, the animated adventure Home and a cameo as herself in This Is The End. She's also part of Luc Besson's Valerian and the City of a Thousand Planets (which made quite a splash at Comic-Con).
As for the third addition, Awkwafina may not be a name you've heard of before, but if you saw Neighbors 2: Sorority Rising, then you've already seen her in action. She played one of the sisters in the makeshift sorority that moves next door to Seth Rogen and Rose Byrne. She only had a small role, but as a raspy voiced college girl who had no problems smoking weed at every turn, she had some funny moments. You can find out more about her in a profile over at NBC News, and here's a taste of her comedic rap skills:
Ocean's Eight was originally believed to be more of a reboot with a primarily female cast, not unlike the reboot of Ghostbusters. However, since the project was announced, we've learned that it will be more of a spin-off with the possibility for some cast members from the Ocean's Eleven trilogy to appear in cameos. George Clooney is the only one mentioned by name since Sandra Bullock is supposed to play his character's sister, but nothing has been confirmed just yet.The Hunger Games director Gary Ross will be at the helm of the spin-off, and he's working closely with Ocean's Eleven producer Steven Soderbergh to make sure this one has a similar style and tone. The two have been friends for awhile (each working as second unit director on each others' films) and Ross even recently told us how they're collaborating to bring Ocean's Eight to life just a couple of months ago.
Even though this project feels like one that was put into action simply because of the Ghostbusters reboot, Ocean's Eight was actually in the works for years before Sony Pictures made moves on Paul Feig's project. However, the death of producer Jerry Weintraub last summer left it sitting dormant for awhile before Ross got a script together with Olivia Milch. But with this prestigious and diverse cast coming together, it sounds like it's actually coming together. Stay tuned for more.