'Inferno' Trailer: Yes, The 'Da Vinci Code' Franchise Is Still A Thing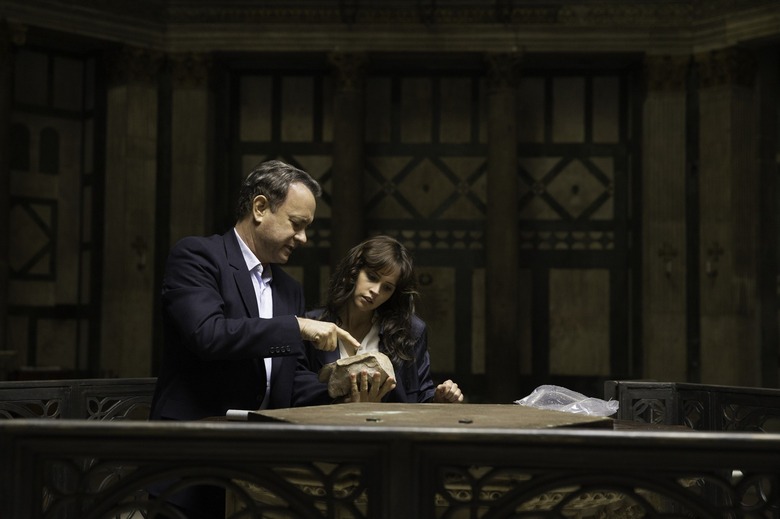 Forgetfulness is so in right now. We've already done the "amnesiac hero" thing twice this summer, with Jason Bourne and Finding Dory, and the trend will extend into this fall with Inferno. The third film in the Da Vinci Code series brings back Tom Hanks as symbologist Robert Langdon, who wakes up in an Italian hospital with no memory of how he got there. As he tries to piece together his missing days, he comes to realize he's the only one who can stop a madman from unleashing a devastating virus.
Felicity Jones follows Audrey Tautou and Ayelet Zurer as Langdon's young brunette companion du jour, and Irrfan Khan, Omar Sy, Ben Foster, and Sidse Babett Knudsen also star. Watch the latest Inferno trailer below. 
If you've forgotten that The Da Vinci Code was ever a thing, you're not alone. We've seen several trailers for Inferno already, and yet every single time I'm surprised all over again to remember that this movie even exists. Part of that is just the timing — it's already been ten years since the first film hit theaters, and seven years since the second. But they grossed a combined $1.2 billion, so here we are following Robert Langdon around again. Inferno doesn't look all bad (no movie starring Tom Hanks could), but it might have a hard time standing out among the endless barrage of forgettable sequels this year.
Directed by Ron Howard, Inferno arrives in theaters October 28.
Academy Award® winner Ron Howard returns to direct the latest bestseller in Dan Brown's (Da Vinci Code) billion-dollar Robert Langdon series, Inferno, which finds the famous symbologist (again played by Tom Hanks) on a trail of clues tied to the great Dante himself. When Langdon wakes up in an Italian hospital with amnesia, he teams up with Sienna Brooks (Felicity Jones), a doctor he hopes will help him recover his memories. Together, they race across Europe and against the clock to stop a madman from unleashing a global virus that would wipe out half of the world's population.