POTD: Tom Hiddleston Returns As Loki For 'Thor: Ragnarok'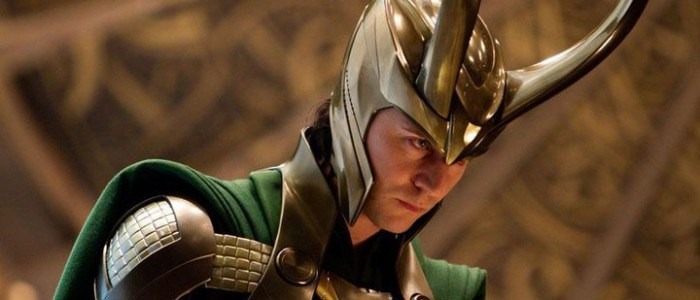 Tom Hiddleston has had a very busy summer, wowing critics with The Night Manager, winning over Hall H for Kong: Skull Island, and, in his rare free time, wooing Taylor Swift. Now he's capping off this crazy season with a return to one of his signature roles. Hiddleston shared a photo of himself in character as Loki for Thor: Ragnarok, which is shooting now under director Taika Waititi. 
Hiddleston shared the Loki Thor Ragnarok photo on Instagram with a simple caption: "He's back!"
A photo posted by Tom Hiddleston (@twhiddleston) on
The photo doesn't really tell us anything about Loki's role in Thor: Ragnarok other than that he will have one, which we already knew. But we will gladly welcome any peek at the return of Marvel's best movie villain. Especially since it's still unclear whether this is the last time Hiddleston will play him.
Loki sat out Avengers: Age of Ultron, and not even his beloved big brother made it into Captain America: Civil War, so the trickster god hasn't appeared on the big screen since 2013's Thor: The Dark World. When we last left off, Loki had died in battle after allying with Thor to fight Malekith and his forces... or so believed. In reality, the ending of Thor: The Dark World revealed, Loki was alive and well and posing as Odin. Oh, man, Thor is gonna be so pissed when he finds out.
Thor: Ragnarok has been filming in Australia for over a month now. Hiddleston was on set early in the shoot, but seems to have returned only recently after traveling to the U.S. and the U.K. for Comic-Con and other commitments. Told you he's been busy.
Also on set right now is Marvel's Louis D'Esposito, who posted a photo of himself with Waititi. This photo tells us that if nothing else, we can look forward to some very nice wall sconces in Thor: Ragnarok.
On location with the magistical, @TaikaWaititi #ThorRagnarok pic.twitter.com/hYdoklMXLZ

— Louis D'Esposito (@louisde2) August 8, 2016
Marvel opens Thor: Ragnarok on November 3, 2017. Also starring are Chris Hemsworth as Thor, Mark Ruffalo as the Hulk, Idris Elba as Heimdall, Tessa Thompson as Valkyrie, Cate Blanchett as Hela, Karl Urban as Skurge, and Jeff Goldblum as the Grandmaster.