Donald Glover On His 'Spider-Man: Homecoming' Experience [TCA 2016]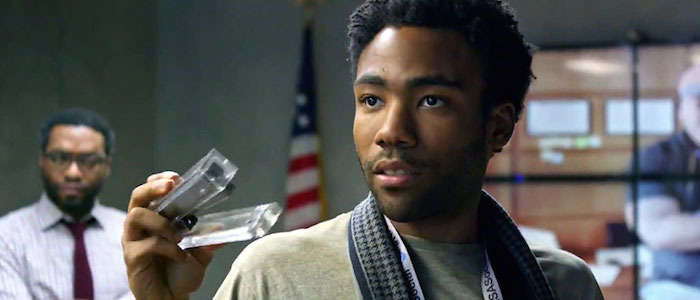 Donald Glover was on a Television Critics Association panel for his new FX series Atlanta, which he created and on which he stars. After the panel, Glover spoke with reporters further, including his work on the upcoming Marvel/Sony collaboration Spider-Man: Homecoming. Of course, he could not say who he plays.
"I'm not allowed to say," Glover said. "Sworn to secrecy."
However, Glover could and did talk a bit more about his general experience shooting Spider-Man: Homecoming.
Jon Watts directs Spider-Man: Homecoming, with Tom Holland reprising the role of Peter Parker introduced in Captain America: Civil War. Robert Downey, Jr. also returns as Tony Stark, mentoring the young boy genius, and Marisa Tomei as Aunt May. Michael Keaton and Logan Marshall-Green play villains, and Zendaya, Laura Harrier, Jacob Batalon, and Tony Revolori play some of Peter's classmates. Glover described his time on the set with the filmmakers.
"It's really great," Glover said. "I had a really great time on that set. Jon's doing a really good job as a director. It was really fun to be home."
Glover has a storied history with Spider-Man. He voices Miles Morales in the animated Ultimate Spider-Man. When the last reboot, The Amazing Spider-Man, was announced, fans began campaigning for Glover to be the new Spider-Man in a live-action Miles Morales incarnation. Instead, the Amazing films cast Andrew Garfield as Peter Parker and produced two films, before Sony and Marvel collaborated to allow Spider-Man to appear in the Marvel Cinematic Universe, and feature Holland's Peter Parker in a series of Sony releases too. Glover never got to play Spider-Man himself, but with Homecoming he has finally wound up in a Spider-Man movie.
"It was kind of an accident," Glover said. "I really wasn't out there trying to do that. I feel like the internet kinda just did that but it was cool because now I get to see from the inside a lot of that stuff, which is all you can ask for as a fan of something."
Spider-Man: Homecoming filmed in Atlanta, GA, which made things more convenient for Glover's schedule. However, Glover was clear that he would have gone anywhere to be a part of Spider-Man.
"If they were shooting in Colorado I probably still would've gone," Glover said. "But it being in Atlanta was kind of like icing on the cake. It was nice."
Spider-Man: Homecoming is out in theaters July 7, 2017. Atlanta premieres on FX Tuesday, September 6 with two half hour episodes.