Robert De Niro And Julianne Moore Will Star In A TV Show From David O. Russell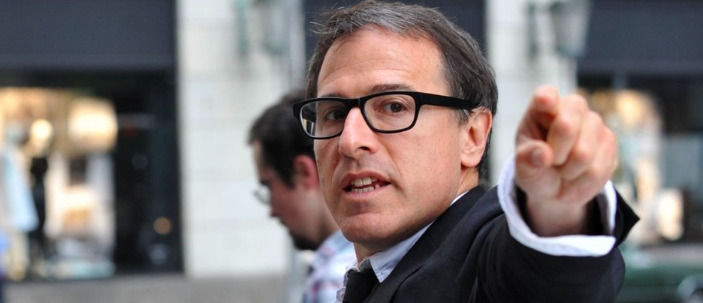 We still don't know the film David O. Russell intends on making next, but we do know the director behind Three Kings, American Hustle, and last year's Joy is working on a television show. The filmmaker will soon shop around a TV drama starring a now frequent collaborator of his, Robert De Niro, and Julianne Moore. Following up their work on Joy and American Hustle, Megan Ellison (Sausage Party) of Annapurna Pictures will produce Russell's newest project.
Below, learn more about the David O. Russell TV show.
According to Deadline, the details on the show are "sketchy," but they shared some information on the potential series. For starters, it's a crime thriller starring cops, and it's possibly set in the 1990s. Russell and all involved are interested in bringing the show to a cable network or a streaming service. Before the pitches even begin, commitments and offers are being solicited. Deadline is unclear on whether this will be a limited series but also says it is "designed to run multiple seasons," which could mean it's an anthology show like True Detective.
Neither De Niro nor Moore has done much television work lately, aside from occasional guest spots on shows like 30 Rock. However, this isn't the first TV show Russell has been involved with recently. Back in 2014, ABC ordered 13 episodes of Members Only. It was the director's first serious television project, but he ended up departing from the series after the development phase. Around the time of this decision, Russell told The Hollywood Reporter he wasn't too interested in working in television:
I'm not really transitioning right now to TV projects. I don't know if that thing's going to work out. Matt Weiner, the creator of Mad Men, just gave me a crash course on this: [He said], 'You know, if you're really going to make a show that's like a movie, you've got to give yourself to it.' Matt Weiner gave his life to Mad Men, Vince Gilligan gave his life to Breaking Bad. That's going to be it. Otherwise it ain't going to be your art or your vision. I was in delusion that I could do both. It was an illusion. I woke up and said, 'What am I going to do, stop making feature films? Are you crazy?' This is the height of my work right now. I'm not going to stop that.
The ABC drama, which starred John Stamos, didn't even make it to its first season. The series originally moved forward with Erin Brockovich and In Her Shoes screenwriter Susannah Grant, but ABC pulled the plug before the comedy premiered. Hopefully, Russell has a better experience on his latest TV project.