'Bad Santa 2' Trailer: Billy Bob Thornton Tries To Recapture That NSFW Christmas Magic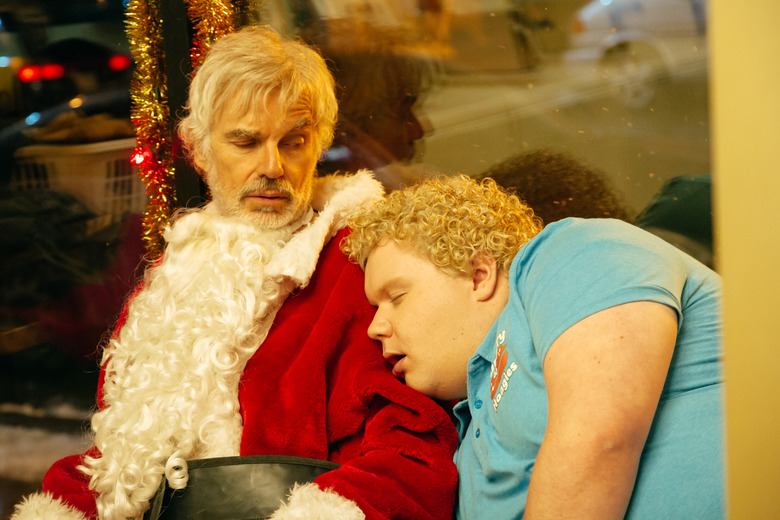 Since 2003, Bad Santa has become a sort of holiday classic for people who don't like holiday classics. This pitch-black comedy is everything Christmas movies aren't supposed to be — crass and mean and completely twisted — which makes it all the more admirable that it manages to be kinda sweet as well. It's a tricky balance, but one director Terry Zwigoff and writers Glenn Ficarra and John Requa pull off with aplomb.
So what happens when someone tries to recapture that magic 13 years later, without the writers or director who made it work the first time? Well, we'll find out in just a few months. This fall's Bad Santa 2 brings back Billy Bob Thornton as self-loathing screwup Willie Soke, along with Tony Cox as his erstwhile partner and Brett Kelly as his young friend. But the director this time is Mark Waters, of Mean Girls fame, and the script comes from Shauna Cross, Doug Ellin, Johnny Rosenthal, and John Phillips. Take a peek at the NSFW Bad Santa 2 trailer below.
Bad Santa 2 arrives November 23. Christina Hendricks and Kathy Bates also star.
BAD SANTA 2 returns Academy Award®-winner BILLY BOB THORNTON to the screen as America's favorite anti-hero, Willie Soke. Fueled by cheap whiskey, greed and hatred, Willie teams up once again with his angry little sidekick, Marcus (TONY COX), to knock off a Chicago charity on Christmas Eve. Along for the ride is 'the kid' – chubby and cheery Thurman Merman (BRETT KELLY), a 250-pound ray of sunshine who brings out Willie's sliver of humanity.
Mommy issues arise when the pair are joined by Academy Award®, Golden Globe and Emmy-winner KATHY BATES, as Willie's horror story of a mother, Sunny Soke. A super butch super bitch, Sunny raises the bar for the gang's ambitions, while somehow lowering the standards of criminal behavior. Willie is further burdened by lusting after the curvaceous and prim Diane, played by Emmy Award-nominee CHRISTINA HENDRICKS, the charity director with a heart of gold and libido of steel.