'Arrival' Teaser: Amy Adams Makes Alien Contact In Denis Villeneuve's Sci-Fi Drama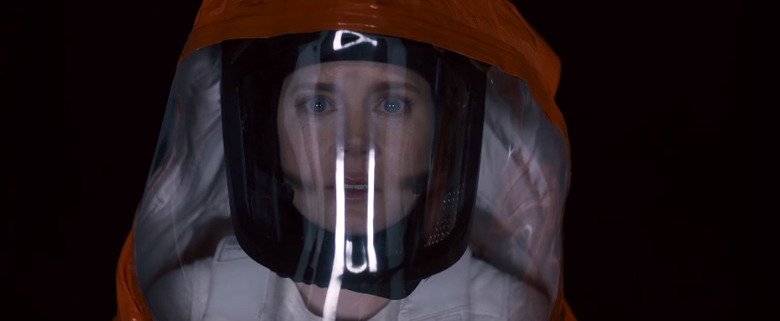 We'll get to see Denis Villeneuve's vision of a dystopian future next year in Blade Runner 2, but before we get there he's serving up a more grounded sort of sci-fi story. Arrival stars Amy Adams as a linguist tasked with communicating with mysterious aliens who've landed on Earth. Not some more futuristic, high-tech version of Earth — our Earth, as we currently know it. We got our first peek at some photos earlier this week, and today we've got the first Arrival teaser trailer. Check it out below.
Peter caught some footage from Arrival earlier this year at CinemaCon, back when the movie was still titled Story of Your Life. At the time, he described it as "Contact meets Close Encounters of the Third Kind," and that sounds about right based on the Arrival teaser above. It's sci-fi, but not like Star Wars is sci-fi. (Though it does feature Forest Whitaker, just like Rogue One: A Star Wars Story.) "This happens in our world today, as it exists," Adams explained recently.
And while it involves an alien visit, don't expect a big, splashy action epic a la Independence Day. "Language is the first weapon drawn in a conflict," says a character in the teaser, suggesting that this isn't the kind of sci-fi story where our heroes dive in guns blazing. And maybe prepare yourself to cry a little. According to Jeremy Renner, who plays a physicist, "If you're a parent, it's going to wreck you." Color us intrigued.
Arrival arrives in theaters November 11.
When mysterious spacecrafts touch down across the globe, an elite team – lead by expert linguist Louise Banks (Amy Adams) – is brought together to investigate. As mankind teeters on the verge of global war, Banks and the team race against time for answers – and to find them, she will take a chance that could threaten her life, and quite possibly humanity.