'Luke Cage' Trailer: Netflix's Marvel Universe Ventures Into Harlem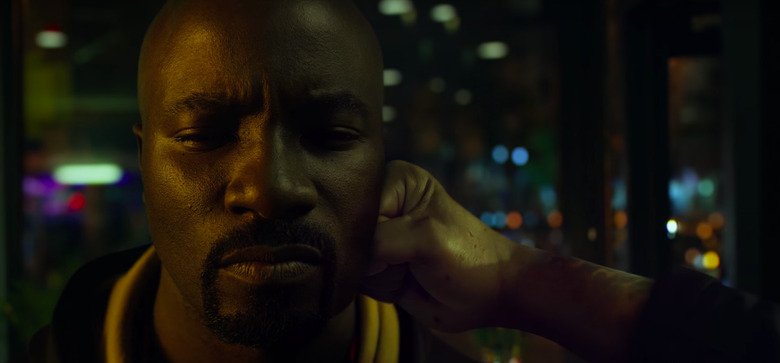 Both Daredevil and Jessica Jones were based in Hell's Kitchen, but perhaps after realizing that a neighborhood of one square mile can only sustain so many superheroes at a time, Netflix's next Marvel hero is headed uptown. Luke Cage picks back up with the unbreakable badass we last saw in Jessica Jones. Nowadays, though, his concern is protecting his neighborhood of Harlem.
The show promises to feature a few familiar faces, like Rosario Dawson as Claire Temple and of course Mike Colter as Luke Cage. But he'll be making some new friends as well, like Simone Missick's Misty Knight, and facing off against a number of baddies including Cornell "Cottonmouth" Stokes (Mahershala Ali), Shades (Theo Rossi), and Mariah Dillard (Alfre Woodard, playing a completely different MCU character from the one we saw in Captain America: Civil War). Watch the latest Luke Cage trailer below.
Luke Cage showrunner Cheo Coker has emphasized the "musicality" of the show, promising appearances by Raphael Saadiq, Faith Evans, and Charles Bradley, not to mention new songs by artists like Jidenna. You can see and hear such musical influences throughout the Luke Cage trailer. One of the most striking shots in the entire trailer is the one of Cottonmouth standing just so in front of his Biggie photograph, so that it looks like the crown is sitting on his head. The soundtrack definitely gives Luke Cage its own unique feel, even as it's easy to see how this show fits comfortably aside Daredevil and Jessica Jones in Netflix's little corner of the MCU.
All 13 episodes of Marvel's Luke Cage will hit September 30 at 12:01 AM Pacific on Netflix.
After a sabotaged experiment leaves him with super strength and unbreakable skin, Luke Cage (Mike Colter) becomes a fugitive who attempts to rebuild his life in modern day Harlem, New York City. But soon he is pulled out of the shadows and must fight a battle for the heart of his city – forcing him to confront a past he had tried to bury.