Suicide Squad Members Might Be Coming To 'Gotham' [TCA 2016]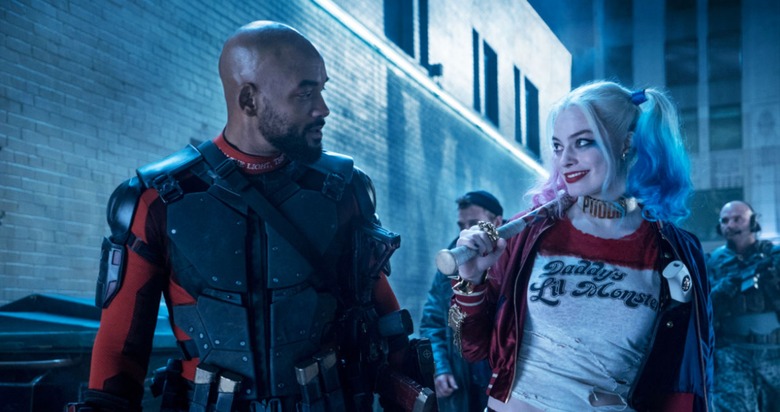 Fox presented a joint panel on Gotham and Lucifer for the Television Critics Association, the connection being they are both based on DC Comics properties. Representing Gotham were producers John Stephens and Ken Woodruff along with select cast. During the panel, Stephens revealed that the Batman prequel show is devising a way to include Harley Quinn, a character who only entered the world of DC later in Batman's history.
"We'll be seeing a character, perhaps not this season, but in times to come, who can be a forerunner for Harley Quinn, which I think will be really exciting as well," Stephens said. "That might just be writer talk for 'we haven't quite figured it out.' It's kind of like you see the first version of it, and you see how it comes from it after the fact." 
The theatrical release of Suicide Squad took up many of the prime Batman villains, and Stephens confirmed there would not be much overlap between Gotham and Suicide Squad. However, they are not entirely mutually exclusive.
"A lot of those characters, because they're in Suicide Squad, we're not going to be seeing them this season," Stephens said. "We will be seeing proto-versions of some of those characters. We see them as sort of a proto-Killer Croc version. So if you see someone who has a scientific anomaly so their skin grows in a certain way, and someone says, 'Oh, I'm going to take that' and then grow Killer Croc from that in the future."
Season two introduced Indian Hill, the laboratory beneath Arkham Asylum where Hugo Strange (BD Wong) does his experiments. Thus Gotham has established how Strange turned villains into supervillains.
"One of the things we wanted to accomplish with Indian Hill and with Hugo Strange's work there was to, one, show that these skills, these powers were possible and that they existed in the world of Gotham," Woodruff said. "And, to really make the patients that came out of the Indian Hill the precursors of the inspiration for some of the more canonical characters that we see, [such as] Killer Croc, Solomon Grundy so that Indian Hill was the bridge to those villains, in other words."
Solomon Grundy is a zombie, so one can begin to imagine how Strange and Indian Hill lets Gotham imagine a Solomon Grundy. "This is getting really into like Batman nerd world, so I apologize, because that's where I live," Stephens said. "You see the Solomon Grundy, that's related to Indian Hill and to the Court of Owls. That mystery of how the creation of Solomon Grundy actually happens will be revealed when we get deeper into the Court of Owls. That will actually play out on and on, as Solomon Grundy tends to do."
Gotham has dangled the tease of The Joker since the pilot when a standup comedian bombed in Fish Mooney (Jada Pinkett Smith)'s club. Jerome (Cameron Monaghan) has been the most notable suspect to become the future Joker, but season two saw Jerome apparently stabbed to death. In true comic book fashion, Stephens alluded to more Jerome in the future of Gotham.
"We really imagined developing the myth of the Joker at the same time we're developing the myth of Batman," Johnson said. "We really wanted to stretch over multiple seasons. So in the course of this year, we're going to see how the cult of the Joker, which we started at the beginning of last year and we touched on in the middle of the year, is going to extend and deepen and change a little bit this year. You have these sort of underground movements that have started to talk about Jerome and what he represented and how he's going to come back on the day, sort of like John the Baptist, et cetera. Setting the stage for, perhaps if there's a Season 4 on FOX hopefully we'll bring that back in a much bigger way, and you will see these different versions of the Joker myth that develop next year with Jerome and with other characters so that we can put those pieces together and go, 'Oh, eventually that's where the Joker himself came from.'"
But if you really want to see Suicide Squad on Gotham, Stephens says they've got something close enough. "We have Will Smith's wife on the show, which is something," Stephens joked.
We have an interview with Woodruff discussing the Court of Owls, Poison Ivy and more coming soon on /Film. Gotham returns September 19 on Fox.