Amazon's New Trailers: 'Transparent' Season 3, 'Goliath,' 'One Mississippi,' And 'Fleabag'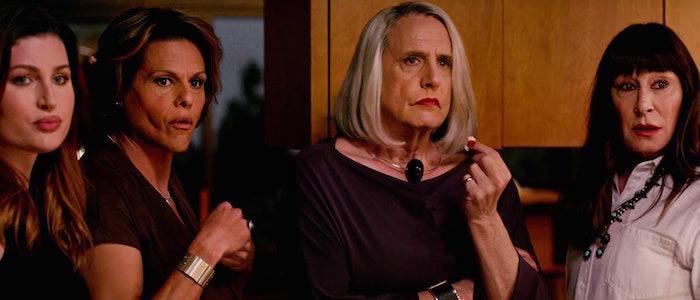 The conversation about streaming television often seems to begin and end with Netflix, which is a bit of a shame. While they may be the biggest player in the game (and have the library of original programming to match), the competition is nothing to scoff at. Take at look Amazon, who have just dropped a new trailer for Transparent season three and a trio of new shows: the law drama Goliath, Tig Notaro's One Mississippi, and the dark comedy Fleabag. If you're steaming world begins and ends with one destination, you're missing out.
Transparent heads into its third season on top of the world. It's Amazon's flagship series, a beloved and lauded show with its fair share of trophies on its mantel and a dedicated following. The trailer for the new season looks as sweet and funny and dramatic as ever, tackling tricky subject matter with the balance of sensitivity and honesty. Here's what you can expect from this season:
The Pfefferman family splinters into disparate journeys on their continued path of self-discovery. After a jarring reality check, Maura seeks to become the woman she envisions through gender confirmation surgery. All paths converge on a family cruise to Mexico, affirming that though their family history is murky, each Pfefferman is their truest self when they come together.
Transparent season three will drop on September 21, 2016.
We've seen the premise of Goliath before: the washed-up lawyer who was brilliant back in the day finds himself yanked out of an alcoholic stupor for a major case that will test his loyalties and push his skills to the limit. But insert actors like Billy Bob Thornton, Maria Bello, and William Hurt into that premise and you certainly have my attention. Although you wouldn't know it from the trailer, this is the latest show from prolific producer David E. Kelley, who looks to be embracing the dark side of modern television with this one. Here's the official synopsis:
Once a powerful lawyer, Billy McBride is now burned out and washed up, spending more time in a bar than a courtroom. When he reluctantly agrees to pursue a wrongful death lawsuit against the biggest client of Cooperman & McBride, the massive law firm he helped create, Billy and his ragtag team uncover a vast and deadly conspiracy, pitting them all in a life or death trial against the ultimate Goliath.
Goliath will be available to stream on October 14, 2016.
After years of producing astonishing stand-up comedy and playing second fiddle to other people as a frequent television guest star, Tig Notaro finally has her own sitcom with One Mississippi and it looks pretty good. There's a sentimental touch to this footage that isn't always evident in Notaro's brutally-honest-when-it's-not-whimsical comedy, but the mere fact that she's headlining her own show should be enough to give this one a shot. The fact that other behind-the-scenes names include Diablo Cody, Louis C.K., and Nicole Holofcener should push you over the edge. You know the drill with this synopsis thing:
Comedian Tig Notaro writes and stars in this semi-autobiographical dark comedy. One Mississippi follows Tig as she returns to her childhood home to deal with the unexpected death of her beloved mother. Struggling with her own health and relationship challenges, she decides to reconnect with her roots to heal and move forward.
One Mississippi will arrive on September 9, 2016.
Those looking for a more vicious comedy series may want to look into Fleabag, which finds Broadchurch star Phoebe Waller-Bridge starring as a "dry-witted, sexual, angry, grief-riddled" who has to navigate the unforgiving landscape of being a single woman in this day and age. The chief appeal here seems to be the Waller-Bridge's caustic sense of humor (she wrote the show, adapting her own play), which finds her breaking the fourth wall when she's not engaging in one horrifying misadventure after another. Here's more:
Award-winning writer, Phoebe Waller-Bridge, writes and stars as Fleabag, an unfiltered, dry-witted woman who hurls herself at modern living in London as she deals with the loss of her best friend, a breakup, and financial troubles at her café. Get an uncensored look at this fast-paced and funny confessional of a woman so totally detached, she's utterly lost.
Fleabag will premiere on September 9, 2016.