'Star Wars Rebels' Season 3 Sets Fall Premiere Date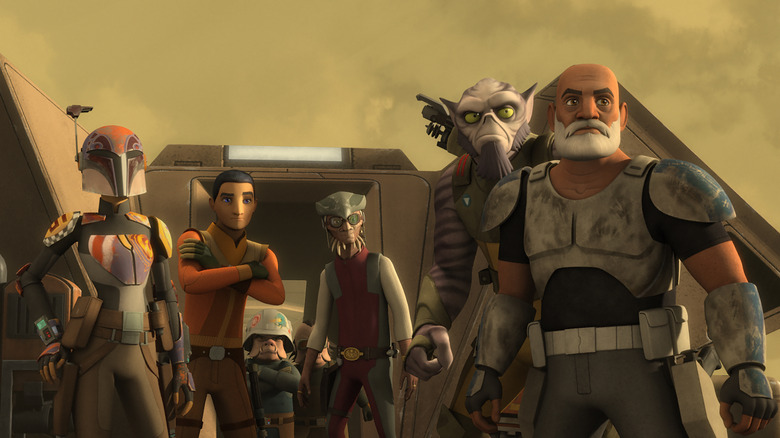 Months before Rogue One: A Star Wars Story hits theaters, Star Wars Rebels will give us our next chance to disappear into the galaxy far, far away. And now we know exactly when the new season will arrive. Disney has announced a fall release date for Star Wars Rebel season 3 which, among other things, will officially induct Legends favorite Grand Admiral Thrawn into the Star Wars canon. Get all the details on the Star Wars Rebels season 3 premiere date below. 
As announced via press release today, Star Wars Rebels season 3 will kick off with a one-hour premiere episode on Saturday, September 24 at 9:30 PM. Grand Admiral Thrawn will make his first appearance in the episode, voiced by Lars Mikkelsen, as will another new character named Bendu, played by Tom Baker. Not caught up with season 2 yet? No worries — you'll get your chance when Star Wars Rebels season 2 hits Blu-ray and DVD on August 30.
While Thrawn has never been in any of the Star Wars movies, he became a fan favorite character thanks to Timothy Zahn's novels from the '90s. Those books were categorized as Star Wars Legends after Disney took over the franchise, but his appearance in Star Wars Rebels officially makes him a canon character. And he's even getting a new novel next year, to be written by Zahn and simply titled Thrawn.
Less is known about Bendu. At Star Wars Celebration, Star Wars Rebels creator Dave Filoni described him as a "big old creature" and a "quirky character" who differs from other types of Force-sensitive characters we've met before.
And of course, returning voice cast members include Freddie Prinze Jr. as Kanan, Vanessa Marshall as Hera, Steve Blum as Zeb, Tiya Sircar as Sabine, Taylor Gray as Ezra, Dee Bradley Baker as Captain Rex, Captain Gregor, and Commander Wolffe, Sam Witwer as Darth Maul, and David Oyelowo as Agent Kallus.
Having established a secret base on Atollon, the Ghost crew, now led by a more powerful Ezra, strengthens the rebel fleet by acquiring new resources and recruits eager to stand against the Empire. However, the Imperial efforts to eliminate the rebellion are now being led by the coldly analytical Grand Admiral Thrawn, whose strategic, tactical and cultural insights make him a threat unlike any they have faced before. In season three, Ezra and Sabine take on new roles and challenges as the rebels prepare for their biggest mission yet – a direct assault on the Empire.