Another George R.R. Martin TV Series Is In The Works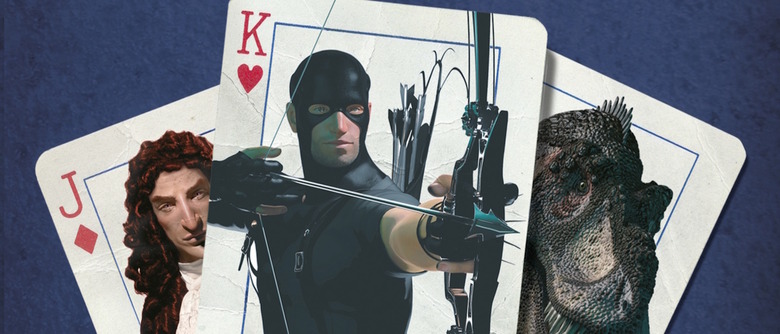 HBO recently confirmed that Game of Thrones has just two seasons left to go, but if it's any comfort, fans of George R.R. Martin can look forward to seeing more of his stories on the small screen. The author has announced that his long-running anthology series Wild Cards is now in development for television, with Star Trek: The Next Generation writer/producer Melinda M. Snodgrass and RED producer Gregory Noveck.
Martin announced the news himself on his LiveJournal page.
Universal Cable Productions (UCP) has acquired the rights to adapt our long-running Wild Cards series of anthologies and mosaic novels for television. Development will begin immediately on what we hope will be the first of several interlocking series. Melinda M. Snodgrass, my assistant editor and right-hand man on Wild Cards since its inception, the creator of Dr. Tachyon, Double Helix, and Franny Black, and a seasoned television writer/ producer whose credits include STAR TREK: THE NEXT GENERATION ("Measure of a Man"), REASONABLE DOUBTS, THE PROFILER, and STAR COMMAND, is attached as an executive producer on the project, together with Gregory Noveck of RED, Slow Learner, and SyFy Films
Universal Cable Productions is a division of NBCUniversal, and their recent hits include USA's Mr. Robot and Colony, Syfy's The Magicians and 12 Monkeys, and Hulu's Difficult People.
Wild Cards takes place in alternate timeline that diverged from ours in 1946, when an alien virus hit our planet. Called the "Wild Card" virus because of its unpredictable effects, it immediately killed 90% of infected humans. Another 9% were transformed into "jokers" with deformations or disabilities, and 1% became "aces" with extraordinary abilities. The universe contains dozens of significant characters spread across hundreds of stories, but Martin specifically promised that a certain key figure will make it to the screen: "You will be seeing Croyd Crenson, no matter shape the eventual show or shows ends up taking. It wouldn't be Wild Cards without the Sleeper."
The first volume of Wild Cards was published in 1986 and another 21 have been published to date, with #23 hitting shelves later this summer. Martin and Snodgrass oversee the Wild Cards series as its editors, but a number of different authors have contributed stories including Chris Claremont, Victor Milan, Daniel Abraham, Ty Franck, and Carrie Vaughn. The franchise so far consists of books, comics, and games, and Martin describes it as being "as large and diverse and exciting as the comic book universes of Marvel and DC (though somewhat grittier, and considerably more realistic and more consistent)."
Martin estimates that Wild Cards could come to television "in the next year or two," but acknowledges that "nothing is ever certain in development." Still, this project has a lot working in its favor already. While Martin isn't directly involved (he has an exclusive development deal with HBO), his association with the source material should give the Wild Cards show a boost. Plus, the premise fits neatly with the current craze for superhero shows. We'll be keeping an eye on this one as it develops, so watch this space.