'Bad Santa 2' Has More Heart, More Story, More Nastiness, Says Billy Bob Thornton [TCA 2016]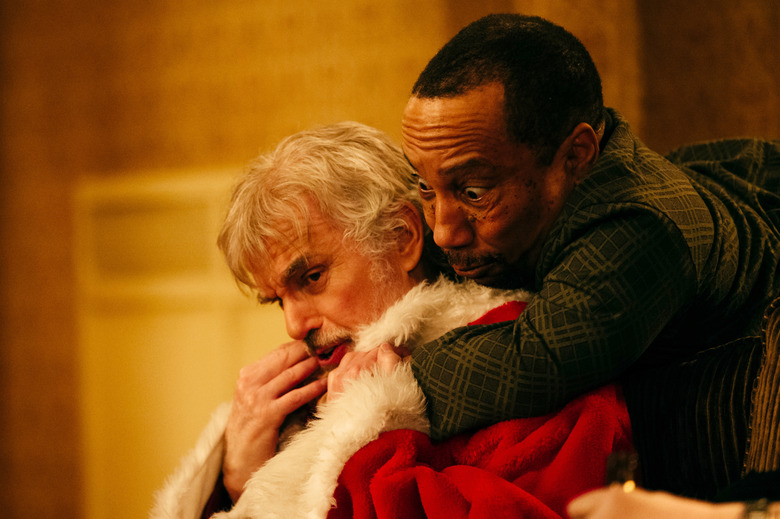 Billy Bob Thornton was on a Television Critics Association panel for his upcoming Amazon original series Goliath, in which he plays an alcoholic lawyer seeking redemption in a new case. The legal drama was co-created by Boston Legal, The Practice, and Ally McBeal creator David E. Kelley. After the panel, Thornton stayed to talk to reporters further. We asked him about the long-awaited sequel Bad Santa 2, which finds his raunchy department store Santa Claus return 13 years after the original was released.
"I think we pushed it even a little further this time, not only in the sort of dark humor but also in the emotion," Thornton said. "This one has more of a heart, more of a story you would say, but it also went a little further with some of the nasty stuff." 
The then-shocking jokes of Bad Santa included Willie having anal sex with Octavia Spencer, promising that when he was done, she wouldn't be able to "shit right for a week." Comedy keeps escalating, with films like Bridesmaids, The Hangover, and This Is the End trying to top what came before. Thorton assured Bad Santa fans that they're aware of the competition.
"We try to keep up with the times," he said.
The original Bad Santa featured Thornton as Willie, a hard-drinking, womanizing criminal who used his department store Santa gig as cover to rob said department stores during their lucrative Christmas season. Willie was taken in by Thurman Merman (Brett Kelly), who gave him a little bit of a sense of family, but only in the way Willie taught Thurman to be naughtier. Kelly returns for the sequel along with Tony Cox.
Terry Zwigoff directed Bad Santa. Mark Waters steps in for Bad Santa 2, along with new screenwriters Shauna Cross, Doug Ellin, John Phillips, and Johnny Rosenthal. That's a mix of filmmakers behind Mean Girls, What to Expect When You're Expecting, Entourage, and Dirty Grandpa. If that gives Bad Santa 2 a slightly different perspective, Thornton is clear that he still has a handle on who Willie is, especially 13 years past the events of Bad Santa.
"If anything, he's probably gotten a little more world-weary," Thornton said.
Bad Santa 2 also stars Kathy Bates and Christina Hendricks. It will be in theaters November 23, 2016. Goliath premieres October 14.