Suicide Squad Box Office: Massive Record Breaking Opening Sees Alarming 41% Drop On Saturday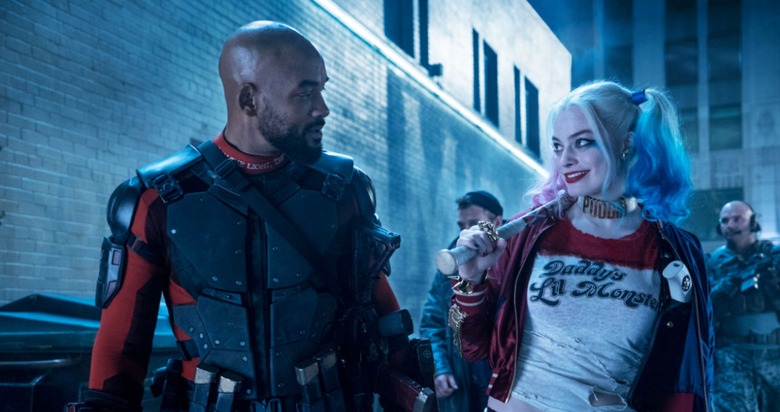 Suicide Squad might be a mess of a film, bashed by critics and fans alike, but that hasn't stopped moviegoers from buying tickets opening weekend. David Ayer's comic book adaptation had a huge opening weekend, earning a massive $135 million domestically, shattering the previous August US box office record (Guardians of the Galaxy has held the crown for two years with its $94.3 million opening in 2014). The film has also grossed over $267 million worldwide, but it will need three times that to break even. If the movie's Saturday numbers are any indication, the bad word-of-mouth buzz for this film will only result in dramatic diminishing returns in the coming weeks. Let's take a look at the Suicide Squad box office, after the jump.
Suicide Squad Box Office Analysis
It is projected that Suicide Squad has to make at least $750 million globally (probably closer to $800 million) for the studio to break even, never mind make a profit. Batman V Superman: Dawn of Justice, which had a similar reception critically, only made a two times multiplier of its opening weekend. If Suicide Squad performed similarly, it would end up somewhere around the $650 million mark.
The film has yet to open in 9 international markets (Egypt, Denmark, Pakistan, Turkey, Italy, Germany, Austria, Greece, and Japan). More importantly, the film will likely not see a release in China – this could have meant another $100-150 million for the film's global box office (even if Hollywood studios only get back about 20%-25% of the money earned in the country).
Suicide Squad made a huge $65.1 million at the Friday box office, but most industry analysts took note that the film had a huge drop from Friday to Saturday. Box Office revenue dramatically declined 41 percent from Friday to Saturday. This decrease is worse than Batman V Superman's drop which fell only 37.9 percent from its large Friday opening. To give even better perspective, the previous August record holder Guardians of the Galaxy saw only an 18 percent drop from Friday to Saturday. It is believed that the film's poor word-of-mouth is to blame for the drop in attendance.
So the question is: how will Suicide Squad do in the coming weeks. Batman v Superman: Dawn Of Justice, which had a similar reception, lost almost 70% of its audience in its second weekend.
One thing can't be denied: the marketing for Suicide Squad was amazing. Warner Bros' marketing department should win awards for the marketing campaign for this film, and it certainly got people interested, but unfortunately a lot of moviegoers seem to be finding that the fun film they're selling isn't the dark and violent film which is in theaters. No wonder the film is trending down thanks to the resulting negative buzz in both reviews and online social media.
It's also worth noting that Suicide Squad broke August IMAX records, earning $18.2 million on 636 IMAX screens globally, also surpassing Guardians of the Galaxy , which opened with $15.9 million worldwide in IMAX screens. The film will have a two week run in IMAX theaters before its replaced by Ben-Hur on August 19th 2016.
Here are the numbers for the top ten box office releases for the weekend:
1. "Suicide Squad" — $135 million
2. "Jason Bourne" — $22.7 million ($103.4 mil.)
3. "Bad Moms" — $14.2 million ($51 mil.)
4. "The Secret Life Of Pets" — $11.5 million ($319.5 mil.)
5. "Star Trek Beyond" — $10.2 million ($127.9 mil.)
6. "Nine Lives" — $6.5 million
7. "Lights Out" — $6 million ($54.7 mil.)
8. "Nerve" — $4.9 million ($26.8 mil.)
9. "Ghostbusters" — $4.8 million ($116.7 mil.)
10. "Ice Age: Collision Course" — $4.3 million ($53.5 mil.)