Woody Allen's 'Crisis In Six Scenes' Amazon Series Gets A Teaser Trailer, Title And Premiere Date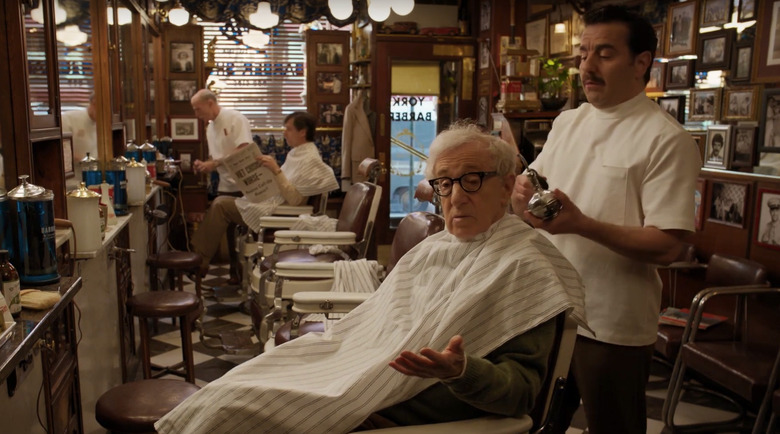 Right now you can check out the latest film from Woody Allen, the 1930s Hollywood comedy Cafe Society starring Kristen Stewart, Jesse Eisenberg, Steve Carell and more. But this fall, the filmmaker will take you to a different era with his first ever series, which will debut exclusively on Amazon.
As is customary with Woody Allen's projects, the Amazon series has been under wraps for awhile. But with the Television Critics Association panels happening over the past week, we now have the title of the series, some new details, and our first glimpse in the form of a little teaser trailer (it's really just a single scene). It's pretty much exactly what you would expect from Woody Allen.
Watch the Crisis in Six Scenes trailer after the jump.
Crisis in Six Scenes takes place in the turbulent 1960s when plenty of controversy and turmoil was engulfing the United States. Specifically, the show will follow a middle class suburban family that is visited by a guest who turns their household completely upside down. That's a pretty vague description of the story, but that's what we've come to expect from Woody Allen.
The 80-year old filmmaker is writing, directing and starring in the new series that will have six episodes and is meant to have only one season. The rest of the cast includes some interesting choices ranging from young pop star and occasional actress Miley Cyrus to veteran comedian, actress and filmmaker Elaine May.
However, neither of them are featured in the above clip which features Allen as Sidney Muntzinger, being very specific though a bit fanciful about the James Dean haircut he wants while his barber (Max Casella) is pretty doubtful about it. Though reports have indicated that a second scene was shown at the TCA panel for Amazon that included Miley Cyrus giving Woody Allen's character some grief about a hot fudge machine that he has in his house while other Americans suffer from malnutrition. So it sounds like Cyrus will be the guest messing with the suburban family in the description.
Other cast members include Rachel Brosnahan, John Magaro, Michael Rapaport, Margaret Ladd, David Harbour, Joy Behar, Christine Ebersole, Becky Ann Baker, Lewis Black and Rebecca Schull.
More than likely this will feel like an extended Woody Allen movie broken up into smaller chunks, but maybe Allen will use the medium in a way that we don't expect. We'll find out when Crisis in Six Scenes debuts exclusively for Amazon Prime members on September 30.