'Suicide Squad' Reveals An Interesting Detail About The Death Of Robin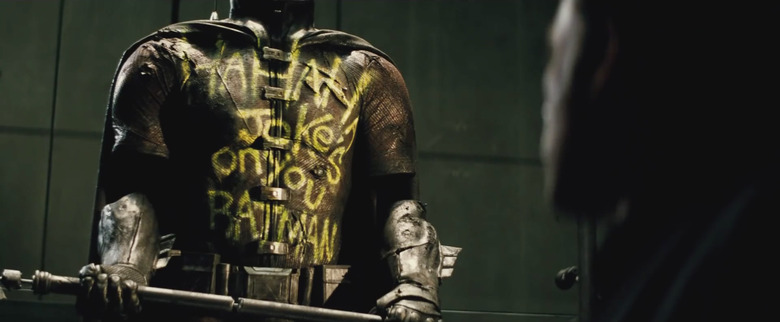 If you've already seen Suicide Squad this weekend, you know that there are plenty of references to the events of Batman v Superman: Dawn of Justice, not to mention some easter eggs and set-ups for future films in the DC Comics cinematic universe. However, there's one blink-and-you'll-miss-it-detail that changes our perspective on a certain event that's only alluded to in the aforementioned superhero battle.
In Batman v Superman, there's a key moment where Bruce Wayne takes a moment to glance at the suit of his former sidekick Robin as it's displayed in a glass case. Spray painted on the suit is, "Ha ha ha! Joke's on you, Batman!" We've all accepted this to mean that The Joker killed Robin, however, a little moment in Suicide Squad indicates that he wasn't the only one responsible.
Find out more about who killed Robin after the jump.
UPDATE: An earlier version of this story referenced a report that said the on-screen text said Harley Quinn claimed responsibility for Robin's death. We've since corrected with more accurate information.
According to ScreenCrush, in the quick flashes of profile text that pop up during the introductions to the members of Suicide Squad, one detail in Harley Quinn's list of attributes and accomplishments is rather interesting. A line of text says that she is an accomplice to the death of Robin. That's news to us.
This may not have a huge impact on the future of the DC Comics cinematic universe, but it's something that doesn't have a basis in the comic book universe. Robin's death was an important story arc that happened in "A Death in the Family" in 1988. However, in that story, it's The Joker who is responsible for Batman's sidekick's death. Harley Quinn wasn't even a character in the Batman universe until years later when she debuted in Batman: The Animated Series in the episode "The Joker's Favor." So this is definitely a departure from comic book history, but that's nothing new in film adaptations, and it makes sense that she would help.
What's interesting is that just recently director David Ayer confirmed that Jared Leto's new take on The Joker was not Jason Todd, the version of Robin who died in "A Death in the Family." Some have speculated that maybe Todd wasn't killed, went crazy, and became The Joker. But Ayer made sure to tell us that's not the case, though we seem to have had confirmation that Jason Todd was indeed the Robin who was killed before the events of Batman v Superman.
However, that doesn't mean that Jason Todd hasn't become another favorite villain from the Batman universe. You may remember a while back that there were rumors of Red Hood being involved in the solo Batman movie that will be directed by Ben Affleck. At the time of those rumors, it was said the story would see Jason Todd working in the shadows as Red Hood, making people think that he's Batman, making the Dark Knight look like a criminal. During this time, he leaves clues behind for Bruce Wayne to solve, leading to a confrontation between the former crime fighting partners and The Joker.
The only problem is that doesn't sound like it lines up with the more recent story details we've heard about the solo Batman movie which. A rumor has said the first movie in Batman's own franchise would involve Batman being trapped in Arkham Asylum. That's a story detail that fits with a previous rumor saying a bunch of Batman villains would pop up in this movie. Honestly, a Batman movie in the style of The Raid sounds absolutely incredible, so I'd be down to see that happen.
Otherwise, the idea Red Hood being introduced as a villain with Jared Leto's The Joker back in some capacity also sounds intriguing. It might be even more interesting if we also get to see Dick Grayson make an appearance as Nightwing for the first time ever on the big screen. That's a rumor that has floated around as well. For now, we'll just have to keep our ears to the ground for more solid details, but this Suicide Squad easter egg definitely adds some interesting flavor to the proceedings.