'Transformers: The Last Knight' Reveals New Autobot Form For Drift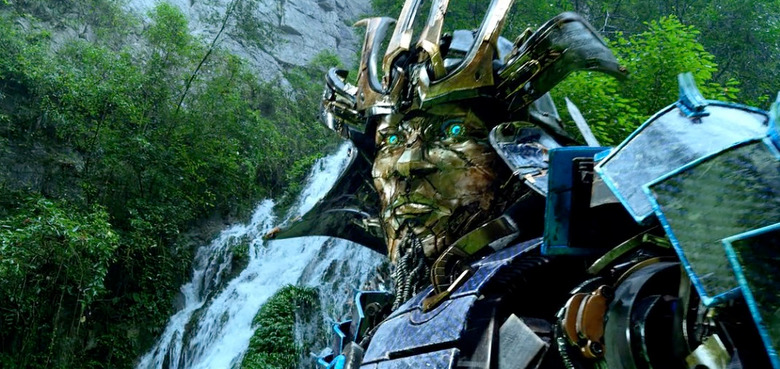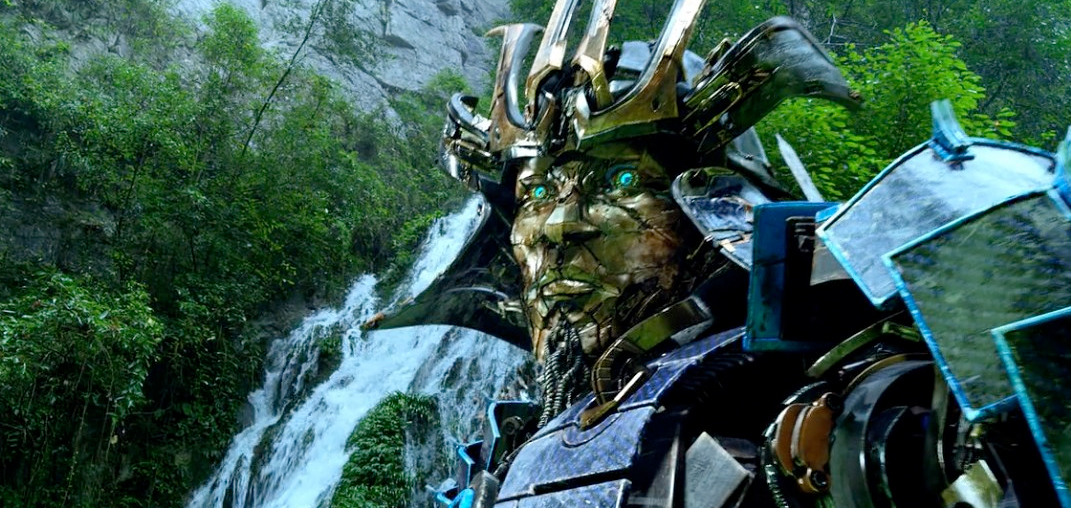 Right now director Michael Bay is in production on Transformers: The Last Knight up in Michigan. /Film was lucky enough to be on set this past Friday to see all the Bayhem first-hand that audiences will see on the big screen next summer. We'll have more on that in a little over a week, but until then, Paramount Pictures has unleashed another glimpse at one of the Autobots. You might remember that a little over a month ago the vehicle form of the Drift, one of Optimus Primse's loyal followers, and now we have a look at his Autobot form.
Check out the new Transformers The Last Knight Drift Autobot form after the jump.
Here's the image that was released through the official Transformers Facebook page: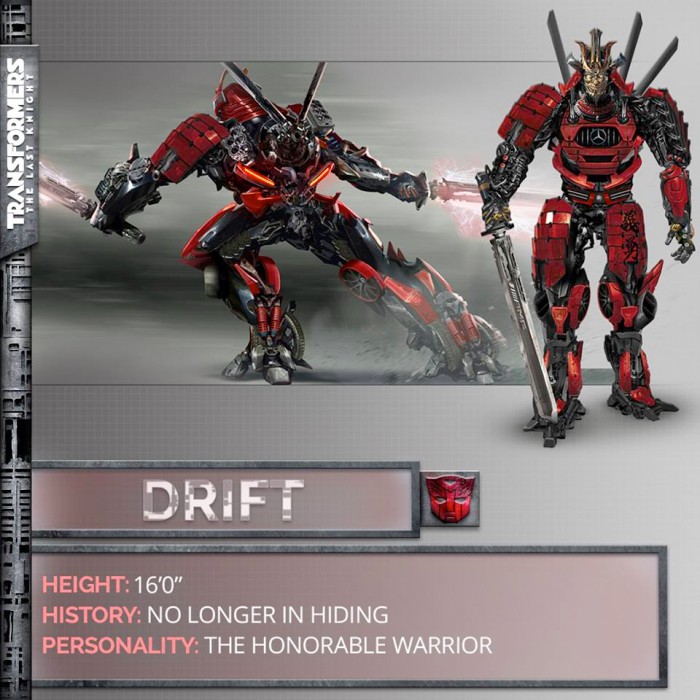 As you can see, they've kept the samurai style of the Autobot, though they have changed up the design of his armor a little bit. The style of his shoulder and leg armor has been modified. Now there's also a Mercedes logo front and center on his chest, because what good is it for a car company to pay for their vehicle to be a hero unless their brand gets the spotlight too?
Now we have both forms of Drift revealed, but some of the other Autobots and Decepticons have had only their vehicle forms released. There's a new vehicle form for the Decepticon Onslaught as well as the Autobot Drift, the police car Decepticon known as Barricade, a new yellow Camaro form for Bumblebee and an all-new character named Squeeks, a cute little Vespa scooter. Plus, we recently learned that Hot Rod will be making his first appearance in the film franchise.
There will be more Autobots and Decepticons revealed as production continues. In fact, coming in a couple days, we'll have our own robot to reveal, so stay tuned for that.
Meanwhile, the human cast of the Transformers sequel has Mark Wahlberg returning as Cade Yeager with Josh Duhamel back again as Lieutenant Colonel Lennox along with Tyrese Gibson as his right-hand man. New cast members include Isabela Moner, Jerrod Carmichael, Laura Haddock and Sir Anthony Hopkins.
Michael Bay is at the helm of this sequel yet again with a script from Iron Man scribes Art Marcum & Matt Holloway and Ken Nolan (Black Hawk Down). Transformers: The Last Knight arrives on June 23, 2017, so we've got awhile to wait for this one.