'The Walking Dead' Learns Its Lesson, Won't End Season 7 With A Cliffhanger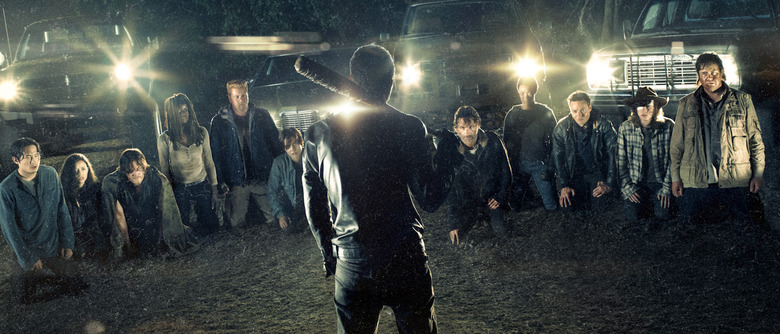 The Walking Dead's sixth season finale got a huge response from fans, but maybe not quite the one its writers and producers wanted. Lots of viewers were annoyed at the show's decision to end on a major cliffhanger, grumbling that it felt like a cheat. Well, The Walking Dead co-creator Robert Kirkman has heard your complaints, and he promises they won't do it again in season 7. Probably.
Read his The Walking Dead season 7 cliffhanger comments below, but be warned there are spoilers ahead for the most recent season.
The last season of The Walking Dead introduced Negan (Jeffrey Dean Morgan), a fan favorite villain from the comics, and ended with him swinging his trusty bat Lucille to kill one of the characters we already know and love. Unfortunately, the episode didn't reveal which character was on the receiving end of that hit, forcing viewers to wait six whole months to find out how that scene really ended.
Speaking to Entertainment Weekly, Kirkman said the team had "taken note" of the strongly negative reaction to the season 6 finale, and suggested they'll avoid repeating that mistake with season 7:
Look, I think as a creative person I have to acknowledge that all responses are valid, so I definitely have to take note that there's a seemingly significant portion of the audience that wasn't happy with that direction, so in that respect I think everyone on The Walking Dead creative team has taken note of that, and I don't know that I would expect a similar cliffhanger at the end of season 7.
Kirkman added that the team was surprised by the harsh response from fans:
I mean, we have to look at those kind of options, and to be honest, that's kind of when you throw it all out the window and just do what you think is the coolest and best for the story. Gauging fan reaction while you're writing a story is a progress killer, and an enthusiasm killer, because you can never anticipate... I mean, we could've never anticipated the uproar that happened on the internet over the cliffhanger. We're always just sitting down and trying to tell the best stories and do the best job of adapting my material from the comic.
Look, every show stumbles creatively once in a while. And for what it's worth The Walking Dead executive producer Greg Nicotero has promised it'll answer the big question right away: "Yes, who was at the receiving end of Negan's bat will be revealed in the first episode," he said. But fans weren't mad that The Walking Dead ended on a cliffhanger. They were mad that it ended on a cliffhanger for no apparent reason other than to artificially juice up drama. Here's hoping that's the lesson they take from this whole debacle, not just "audiences hate cliffhangers."
The Walking Dead season 7 premieres in October.