'End Of The Tour' Director James Ponsoldt And Disney Will Explore The 'Wild City'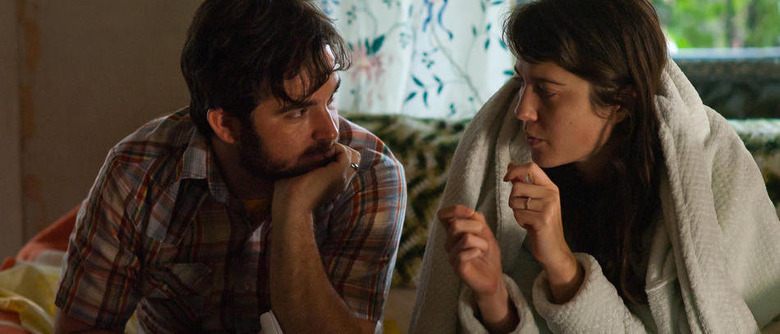 Director James Ponsoldt has been making some high-quality dramas over the past few years. Smashed (seen above), The Spectacular Now, and The End of the Tour are strong films with great performances. Right now, Ponsoldt is busy with his adaptation of Dave Eggers' The Circle, and after he's finished that picture, he may tackle his first major studio film, Wild City.
Below, learn more about the James Ponsoldt Wild City project.
The Hollywood Reporter broke the news of Ponsoldt's CG/live-action hybrid film. The Disney project is in early stages of development, but Ponsoldt will write and direct the movie based on his original idea. Since there's no script and this is an original story, little is known about the plot, but Wild City will show some of Los Angeles' wildlife go on an adventure. Ponsoldt is producing the film as well, while Disney's Louie Provost will oversee the project.
An original CG/live-action hybrid is certainly an ambitious first studio film for Ponsoldt, but it's refreshing to see a talented filmmaker such as himself make that big leap without directing a reboot, sequel, or comic book adaptation. After the acclaim and notable success of The Spectacular Now, it wouldn't be surprising if Ponsoldt received offers to direct some sort of tentpole film.
Instead of maybe making a huge studio movie, the director went on to direct The End of the Tour, an often brutal but moving drama. He's lined up a few other projects for himself over the years, including I Want My MTV for A24, based on Rob Tannenbaum and Craig Marks' acclaimed novel "I Want My MTV: The Uncensored Story of the Music Video Revolution." That film would show the rise of MTV, and it's a project — which Brett Ratner was once attached to direct for Sony — that Ponsoldt is also writing. The Spectacular Now director was also once involved with Channing Tatum's upcoming directorial debut, Forgive Me, Leonard Peacock, but he dropped out.
The Smashed director's next film, The Circle, doesn't have a release date yet, but we should news regarding a release date hopefully soon, although on IMDB it's dated for 2016. The Circle stars Emma Watson, Tom Hanks, Karen Gillan, Ellen Wong, Glenne Headly, Poorna Jagannathan, Bill Paxton, John Boyega, and Ellar Coltrane. Watson plays Mae Holland, a character that lands her dream job at a tech company. The drama is a sci-fi thriller with some shades of George Orwell's "1984."