'The Eagle Huntress' Trailer: Daisy Ridley's Uplifting Sundance Doc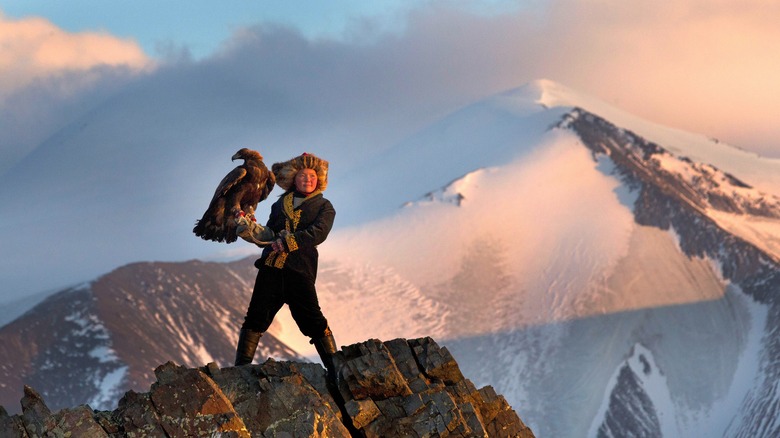 One young heroine tells the story of another in The Eagle Huntress, Otto Bell's well-received Sundance documentary about Aisholpan, a 13-year-old Kazakh girl who overturns 2,000 years of tradition to become the first female eagle hunter. Helping to chronicle Aisholpan's uplifting tale is Star Wars: The Force Awakens star Daisy Ridley, who serves as narrator and executive producer. Watch the Eagle Huntress trailer below. 
The tone and tenor of The Eagle Huntress will probably seem familiar to anyone who's ever seen an inspirational sports story before, but the specific subject is unusual and intriguing. The film looks like a fascinating insight into a world and a culture that's new to most of us. And it provides plenty of opportunities for sweeping vistas of the Mongolian steppe and soaring shots of eagles in flight.
While none of the /Film team had the opportunity to check out The Eagle Huntress at Sundance, our colleagues at other outlets found much to like. First Showing's Alex Billington named it one of his favorite films of the fest, while The Film Stage's Jordan Raup raved that the film "excels in portraying the beauty and respect the people here have for both the animals and environment."
The Eagle Huntress opens October 28 in New York and Los Angeles, and will expand to other markets in the weeks that follow.
THE EAGLE HUNTRESS follows Aisholpan, a 13-year-old girl, as she trains to become the first female in twelve generations of her Kazakh family to become an eagle hunter, and rises to the pinnacle of a tradition that has been handed down from father to son for centuries.
Set against the breath-taking expanse of the Mongolian steppe, THE EAGLE HUNTRESS features some of the most awe-inspiring cinematography ever captured in a documentary, giving this intimate tale of a young girl's quest the dramatic force of an epic narrative film.