Bradley Cooper And Todd Phillips Reuniting For HBO Miniseries About ISIS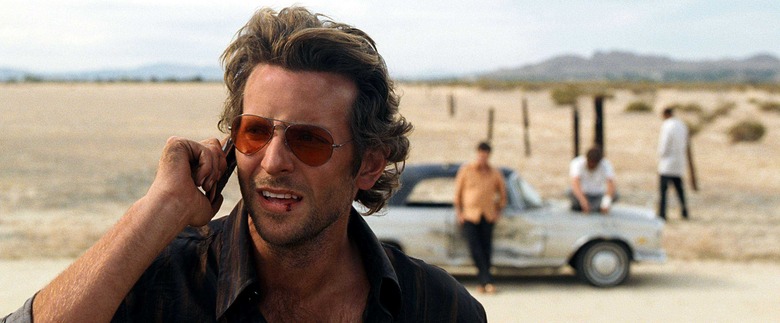 First Bradley Cooper and Todd Phillips joined forces for the Hangover trilogy, then they got slightly more serious with War Dogs, and now they're going all-in with drama for HBO. The pair will team up for an HBO miniseries about the formation of ISIS, based on Joby Warrick's 2016 Pulitzer Prize-winning book Black Flags: The Rise of ISIS. 
According to Deadline, the project came about after Cooper read the book and reached out to Warrick. Cooper and Phillips will executive produce the miniseries, which HBO has just put into development, through their Joint Effort production banner. Also serving as executive producers are author Gregg Hurwitz, who will write the script, and Tim Van Patten, who will direct. Van Patten is an HBO favorite, having helmed episodes of Boardwalk Empire, Game of Thrones, The Sopranos, The Wire, Sex and the City, and more.
Warrick's book "traces how the strain of militant Islam behind ISIS first arose in a remote Jordanian prison and spread with the unwitting aid of two American presidents." The book chronicles the journey of terrorist mastermind Abu Musab al-Zarqawi, who helped found the movement that would eventually evolve into ISIS, as well as those of the American and international agents trying to stop ISIS.
News of the HBO miniseries comes just as Phillips and Cooper's latest collaboration, War Dogs, prepares to hit theaters. The film is based on a true story and stars Miles Teller and Jonah Hill as two young Americans who score a $300 million contract from the U.S. government to arm the Afghan military. Phillips directed, Cooper co-stars, and both produced. The War Dogs trailers combine The Hangover-style bro-bonding with far darker, more serious geopolitical stakes, so maybe a drama about ISIS was the next logical step. Phillips and Cooper also worked together on the now-cancelled CBS series Limitless, based on Cooper's 2011 film of the same title.