Anthony Mackie Reunites With 'Hurt Locker' Director Kathryn Bigelow For Detroit Riots Drama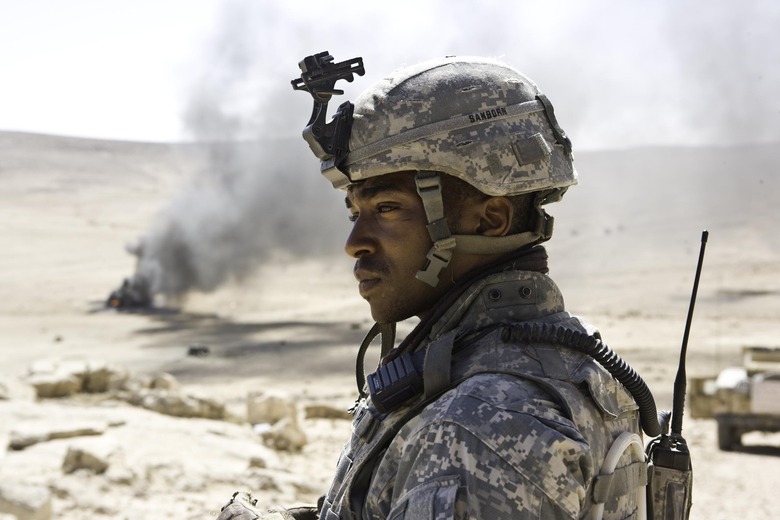 Kathryn Bigelow's next movie will reunite her with a star from one of her last movies. Anthony Mackie has boarded her as-yet-untitled drama about the 1967 Detroit riots, joining Star Wars: The Force Awakens star John Boyega and Game of Thrones actress Hannah Murray. The project also recently added Will Poulter (The Revenant), Ben O'Toole (The Water Diviner), and Jack Reynor (Sing Street). Deadline, who broke the news of the Kathryn Bigelow Anthony Mackie casting, reports Mackie will have a "key role" as a Vietnam vet. The film will explore systemic racism in urban Detroit as it tells the story of one of the worst riots in American history. In the early hours of July 23, 1967, Detroit police raided an unlicensed bar and arrested everyone present. The confrontation between law enforcement and patrons became heated, and sparked a riot that continued for five days. By the end, 43 people had been killed, hundreds more had been injured, and thousands had been arrested.
Bigelow is directing from a script by frequent collaborator Mark Boal. He picked up an Oscar for writing The Hurt Locker (which also won Best Picture that year) and a nomination for Zero Dark Thirty. Both are producing the Detroit riots drama along with Annapurna Pictures' Megan Ellison and Matthew Budman. Production has just gotten underway. No release date has been set but it's expected to open next year to mark the 50th anniversary of the riots.
Mackie starred in Bigelow's The Hurt Locker with Jeremy Renner and Brian Geraghty. He was most recently seen in the HBO movie All the Way and the John Hillcoat crime drama Triple 9. Mackie is one of those actors who seems to pop up everywhere, in everything from big-budget blockbusters to indie dramas to comedies. His upcoming credits include another Avengers sequel and the Johnnie Cochran drama Signal Hill.