'Brother Nature' Trailer: How Taran Killam And Bobby Moynihan Spent Their SNL Vacation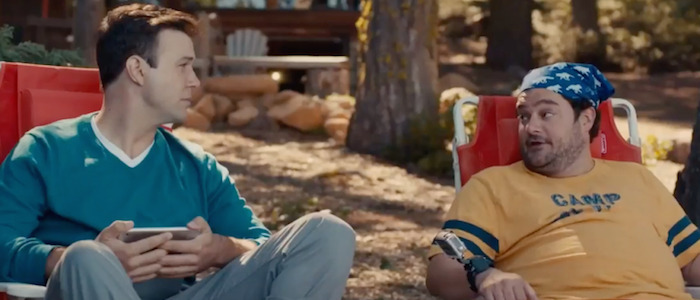 The 42nd season of Saturday Night Live won't hit the airwaves until later this fall, but comedy fans may be able to get their fix with the new movie Brother Nature, which features its fair share of SNL veterans. You've seen this premise a dozen times before before – the uptight guy must survive a vacation with his girlfriend's wacky family – but there are some very funny people involved on both sides of the camera, including Taran Killam and Bobby Moynihan. Can they freshen up a tired premise? Let's run that new trailer footage and take a look.
Killam, who also co-wrote the screenplay with Mikey Day (himself an SNL veteran) and Cameron Fay, stars as Roger, a politician who finds himself clashing with his obnoxious potential brother-in-law (Moynihan) during a lake house vacation. You know the drill: will the tightly wound guy learn to get along with the lovable nut who drags disaster in his wake? Will there be scenes where people fall into lakes? Is there a gag involving angry forest life? Even if you haven't watched the trailer yet, you know the answer to those questions.
As familiar as this is, Killam and Moynihan are two of SNL's more underrated players and their supporting cast is stacked with people worth watching, including Gillian Jacobs, Bill Pullman, Rita Wilson, Kumail Nanjiani, Kenan Thompson, Giancarlo Esposito, and David Wain. First-time feature directors Osmany Rodriguez and Matt Villines are the wild cards here, but they've built up a large library of comedy shorts, including many contributions to Funny or Die.
In all honesty, this trailer didn't do too much for me and too much of it reminded me those bad '90s comedies that always end with a heartwarming lesson of some kind (I fully expect Killam's character to quit his job after stumbling upon the Meaning of Family or something), but there's just enough of a comedy pedigree to keep me interested. Here's the official synopsis:
Roger (Taran Killam), a straight-laced politician has big plans to propose to his dream girl (Gillian Jacobs) at her family's lake house. But everything goes awry when he meets his potential brother-in-law Todd (Bobby Moynihan): a full-time camp counselor with a heart of gold and a wild sense of fun, pining to be Roger's best friend, and ultimately catapulting him into a series of unfortunate events. As Roger tries to take a stand amidst outrageous fishing excursions, propulsive water jetpacks and American history-themed musicals, he realizes that being a part of a new family may be more difficult than he'd thought. From Lorne Michaels, the executive producer of Saturday Night Live, comes a hilarious comedy co-starring Rita Wilson, Bill Pullman, Ellen Bloodworth, Sarah Burns, Giancarlo Esposito, Rachael Harris, Kumail Nanjiani, Kenan Thompson and David Wain.
Brother Nature arrives on September 9, 2016. The film's poster, which features Bill Pullman's face photoshopped into the basic shape of Jason Siegel, can be found below.