'I.T.' Trailer: Pierce Brosnan Will Punch Your Connected Lifestyle Right In The Face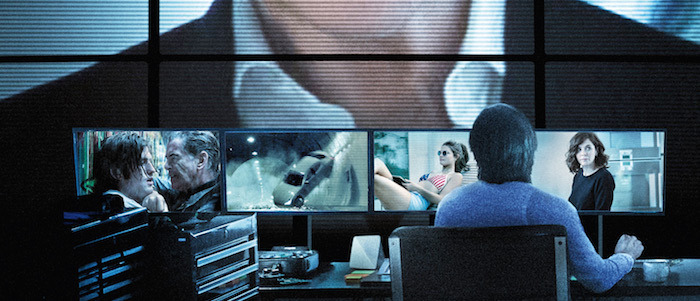 Pierce Brosnan's post-James Bond career is an endless source of fascination. Sure, he's done his fair share of the expected "aging action hero" junk like The November Man and Survivor, but he's at his most interesting when he's teetering on the edge of his cool-and-composed onscreen persona. He was a bright spot of lunacy in the otherwise turgid No Escape, an inspired comic presence in Edgar Wright's The World's End, and the snippets we've seen of his performance in the upcoming drug thriller Urge look like my kind of bonkers. I'll on board the modern Pierce Brosnan train, especially if he derails the whole thing near Crazy Town.
And that brings us to the I.T. trailer, a very silly-looking techno-thriller that's all about an aging family man doing battle with a young hacker/computer expert who uses his skills to take over a family's smart home and make their lives a living hell. Have you ever seen one of your parents yell at their new-fangled iPad or internet router? Consider this the natural extension of that primal conflict.
It's been a little too long since we've had a true and proper "modern technology is evil!" thriller, and I.T. looks like it could scratch that itch. In one corner, you have Brosnan, a ruggedly sexy dad figure playing a ruggedly sexy millionaire CEO dad figure. In the other, you have a Creepy Youth (Animal Kingdom's James Frecheville), whose computer knowledge allows him to engage in new levels of stalking and harassment. And in our connected world, the only thing that isn't controlled by a computer is Brosnan's hardened fists and Irish temper, both of which look to be employed during the course of this story.
The whole thing looks preposterous and ridiculous and possibly just entertaining enough to earn two hours of your time.
However, the trailer itself tells you why tapping the brakes on your potential may be the sensible choice. Director John Moore's filmography leaves a lot to be desired and after the remake of The Omen, Max Payne, and A Good Day to Die Hard, I have a hard time getting too interested in anything with his name on it, wacky trailer or not. I would love to be pleasantly surprised by I.T. Let's just leave it at that.
Here's the official synopsis for the film:
Mike Regan is a successful, self-made man who has it all: a gorgeous wife, a beautiful teenage daughter and a sleek, state-of-the-art "smart home". But he soon finds himself in a deadly, high-stakes game of cat-and-mouse when his I.T. consultant, Ed, starts using his skills to stalk Mike's daughter and endanger his family, his business, and his life. In a world where there is no privacy, and personal secrets can go viral by the click of a mouse, Mike needs to rely on his old connections to defeat a new kind of nemesis.