'The Big Lebowski' Star David Huddleston Dead At 85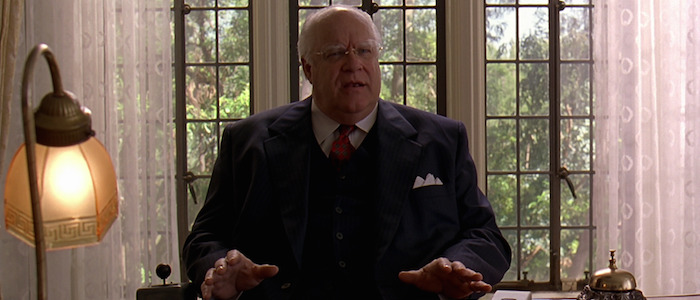 David Huddleston, the prolific character actor whose credits include The Big Lebowski and Blazing Saddles, has passed away from from heart and kidney disease at the age of 85. Even if you didn't know his name, you almost certainly recognized his face – as a far as reliable "that guys" go, Huddleston was top notch, never failing to improve any scene in which he took part.
Born in Virginia on September 13, 1930, Huddleston served in the United States Air Force before attending the American Academy of Dramatic Arts in New York, graduating in 1957. From there, Huddleston leapt between stage, television, and film, often playing boisterous characters for comedic and dramatic effect.
Modern audiences are most familiar with Huddleston from his role as the title character in the Coen brothers' The Big Lebowski, where he acted as a superb foil to Jeff Bridges' The Dude. His comic chops also received a workout in Mel Brooks' comedy classic Blazing Saddles, where he played Olson Johnson. And he didn't just play funny cowboys either – he played a memorable supporting role in director Robert Benton's 1972 drama Bad Company, where he shared the screen with Bridges for the first time.
Huddleston's only leading role in a major film came with 1985's Santa Claus: The Movie, a big budget debacle that isn't too fondly remembered by audiences. However, Huddleston's warm and straightforward take on the title character is the best part of the movie and the kind of performance that deserved a better movie surrounding it.
But like so many working character actors, Huddleston bounced from film to film and show to show, racking up credits in projects whose titles alone may make you smile. Just to name a few shows that benefited from his presence: Bonanza, The Dick Van Dyke Show, The Mary Tyler Moore Show, Gunsmoke, Bewitched, Kung Fu, Murder She Wrote, Columbo, Star Trek: The Next Generation, The Practice, Gilmore Girls, and The West Wing. He received an Emmy nomination for playing Grandpa Arnold on The Wonder Years and proved his comic chops one more time with a guest appearance in It's Always Sunny in Philadelphia in 2009. That would end up being one of his final roles.
Huddleston leaves behind a wife of 32 years and a son, Michael. Pour one out for the character actors – they're the ones who make these movies and shows we love so much function in the first place and Huddleston was first class.