Joel Edgerton May Join Jennifer Lawrence In 'Red Sparrow'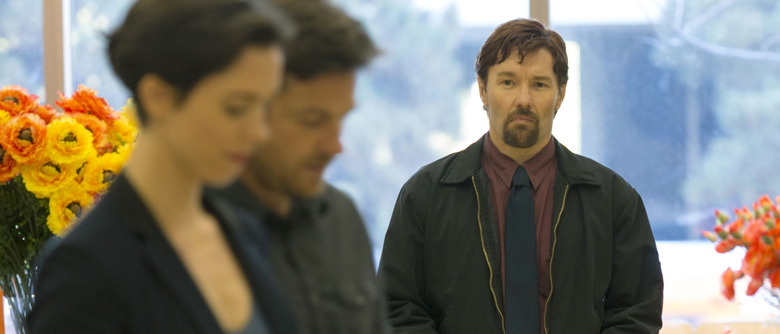 Last year Jennifer Lawrence was circling the lead role in Red Sparrow. A deal must've been made because now Joel Edgerton is in talks join her and director Francis Lawrence (The Hunger Games sequels) on the project. The thriller — which at one point interested David Fincher and Rooney Mara – is based on retired C.I.A. officer Jason Matthews' spy novel.
Below, learn more about the potential Joel Edgerton Red Sparrow project.
In the 20th Century Fox project, Lawrence will play Russian intelligence officer Dominika Egorova, a "trained seductress." Her mission is to work against C.I.A. officer Nathaniel Nash, whom Edgerton would presumably play, according to Deadline. Egorova ends up developing a dangerous relationship with her mark, and she eventually joins Nash and the C.I.A. to help them uncover a rat on their side. Eric Warren Singer (American Hustle) wrote a draft of the script, but Justin Haythe (Revolutionary Road) did the most recent revision.
Here's the book's full synopsis:
In present-day Russia, ruled by blue-eyed, unblinking President Vladimir Putin, Russian intelligence officer Dominika Egorova struggles to survive in the post-Soviet intelligence jungle. Ordered against her will to become a "Sparrow," a trained seductress, Dominika is assigned to operate against Nathaniel Nash, a young CIA officer who handles the Agency's most important Russian mole.
Spies have long relied on the "honey trap," whereby vulnerable men and women are intimately compromised. Dominika learns these techniques of "sexpionage" in Russia's secret "Sparrow School," hidden outside of Moscow. As the action careens between Russia, Finland, Greece, Italy, and the United States, Dominika and Nate soon collide in a duel of wills, tradecraft, and—inevitably—forbidden passion that threatens not just their lives but those of others as well. As secret allegiances are made and broken, Dominika and Nate's game reaches a deadly crossroads. Soon one of them begins a dangerous double existence in a life-and-death operation that consumes intelligence agencies from Moscow to Washington, DC.
There's no word on when the Steve Zaillian-produced thriller will go into production. Francis Lawrence has a few other projects on his plate, including Lionsgate's multi-part adaptation of the epic Greek poem The Odyssey. That project was aiming to begin shooting this year, but it's unclear if that remains the plan. As for Edgerton, we'll soon see the talented actor, director, and writer in Jeff Nichols' serious awards contender, Loving, and he has David Ayer's Bright, the fantasy cop movie Netflix bought for more than a few dollars, coming up as well.