'XOXO' Trailer: Netflix Throws A Rave You Can Enjoy From Your Living Room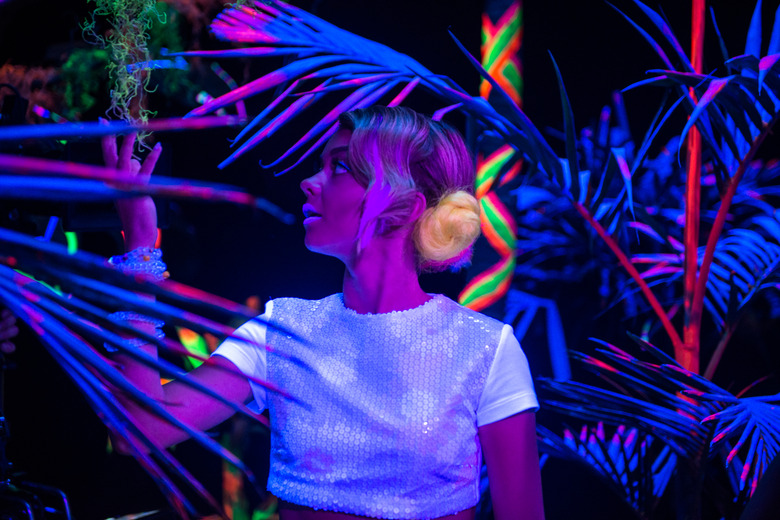 What do you do if you love raves but hate leaving the house? Well, if you've got a Netflix subscription, you put on XOXO. Directed by Christopher Louie, the EDM drama follows six strangers whose lives intersect as they make their way to a giant music festival. Our main hero is Ethan (The Good Wife's Graham Phillips), an up-and-coming DJ who books a last minute slot at XOXO after his latest tracks go viral.
There's also Krystal (Modern Family's Sarah Hyland), who seems to in the mood for love, and Neil (Whitney's Chris D'Elia), who seems really cranky about having to attend XOXO, plus Hayley Kiyoko (Jem), Ryan Hansen (Veronica Mars), Ione Skye (Say Anything...), Colin Woodell (The Originals), and Brett DelBuono (Let Me In). Watch the XOXO trailer below. 
I'll be the first to admit XOXO is not meant for me. I don't get EDM, and it's not just because I'm old; I was never into music like this when I was younger either. But there's something endearingly, almost painfully earnest about this trailer. Oh, sure, it's cheesy as hell, and all the characters speak in platitudes. The movie knows it, too — at one point in the trailer, one character wryly completes another's cliché.
But I remember being that wide-eyed kid spouting stuff like "When you make that connection with somebody, it gets you outside yourself!" It's exactly the kind of revelation that feels totally obvious from the outside, but feels life-changing when you're the one having it. Even if I never end up watching this movie, it's just nice to know it's out there, being sweet and sincere for anyone who needs it.
XOXO hits Netflix August 26.
XOXO is a coming-of-age ensemble film about a group of 20-somethings on a crazy adventure to the biggest EDM festival in America, XOXO. The film follows six strangers whose lives collide in one frenetic, dream-chasing, hopelessly romantic night. At the center is Ethan, a young DJ who gets a last minute slot to perform after his tracks go viral online days before the festival. This is a huge opportunity... if he can just make it there in one piece.