The Duplass Brothers' Anthology Series 'Room 104' Is Coming To HBO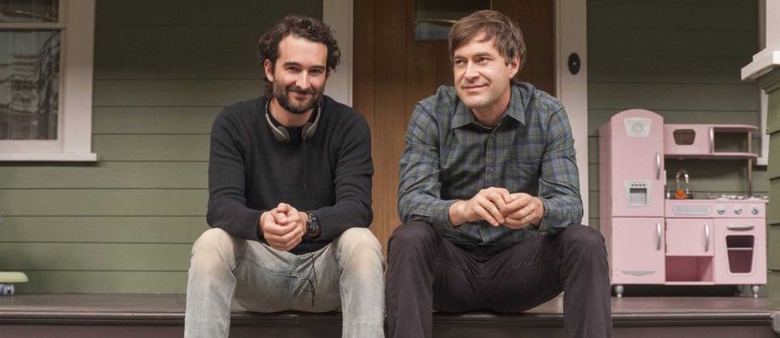 Although HBO canceled Togetherness after only two delightful and often painful seasons, they're not out of business with the Duplass brothers just yet. The cable network has ordered a new anthology series from writers and directors Mark and Jay Duplass. Next year is when we'll Room 104, which is about "finding the magic in the mundane."
Below, learn more about The Duplass brothers new HBO show.
Deadline says Room 104 is set entirely in one location. The series will take place at an average American hotel, and each episode will show a new character staying in Room 104. Production is set to begin later this year in Los Angeles, where Togetherness was also shot.
Here's what Mark and Jay Duplass had to say about what inspired them to make Room 104:
We've all seen stories set in seedy motels and high-class international resorts, but for years we've been fascinated by the funny, weird, sad, scary, absurd things going down in that corporate chain hotel near the airport. That's what Room 104 is after... finding some magic in the seemingly mundane
HBO's president of programming Casey Bloys added:
Jay and Mark Duplass are two of the most inventive talents in TV today. We're excited to see what they do with this unique concept.
The Duplass brothers are the showrunners and executive producers on Room 104, but it's unconfirmed whether the two actors — Jay Duplass stars in Transparent, Mark Duplass starred in The League – in the show at any point. The brothers have a production deal at HBO, and this comedy series marks the third show they've worked on for them, following up Togetherness and the animated series Animals. Under their two-year deal, Duplass Brothers Productions will develop and produce series for the cable network. Their latest collaboration with HBO is also executive produced by Xan Aranda and produced by Sydney Fleischmann.
It was disappointing Togetherness didn't last for a few more seasons. The brothers probably had more to say with those struggling, messy characters you can't help but to root for and recognize. On the bright side, the Duplass brothers put out a good amount of content, so maybe they'll present us with another group of characters we'd happily watch soon. The duo currently also have a nice deal with Netflix. The streaming service is going finance four of their films, and unlike their Adam Sandler titles, they plan on distributing them in theaters.
Room 104 airs on HBO in 2017.