'Antibirth' Trailer: Natasha Lyonne Has The Weirdest Pregnancy Ever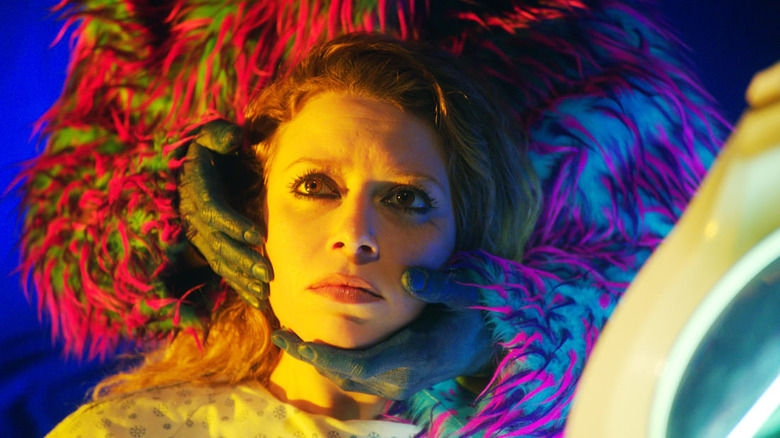 One of the stranger films I caught at Sundance this year was Antibirth, a trippy thriller that marks Danny Perez's debut feature. Natasha Lyonne stars as Lou, a strung-out, hard-partying veteran who discovers she's pregnant...despite the fact that she hasn't had sex in months. And it just gets weirder from there, as Lou sets out to learn what's really growing inside her. Joining Lou on this bizarre journey are her best friend Sadie (Chloë Sevigny), their drug dealer Gabriel (Mark Webber), and Lorna the conspiracy theorist (Meg Tilly).
Antibirth definitely won't appeal to everyone, but if you've got a taste for whacked-out body horror and a twisted sense of humor, this one might be for you. Watch the Antibirth trailer below.
The Antibirth trailer does a pretty good job of capturing the film's druggy, nightmarish vibe. The Guardian's Jordan Hoffman described it as being sort of like "if the Dude from The Big Lebowski somehow ended up in David Cronenberg's The Brood," while The Film Stage's John Fink calls it "the nasty punk rock step-child to the very best of William Friedkin" and cites Bug and The Exorcist as particularly apt comparisons. All of which sounds about right, but really, if that promo appeals to you, Antibirth is the kind of thing you need to see for yourself. It's bold and disgusting and unapologetically strange, and you won't see much else like it in theaters.
Antibirth hits theaters and VOD on September 2.
Hard-drinking, pill-popping, bong-ripping Lou (Natasha Lyonne) and her best friend Sadie (Chloë Sevigny) spend their days adrift in a druggy haze. But one wild night out becomes a bad trip that never ends when Lou wakes up with symptoms of an unexplained, highly abnormal pregnancy. Who—or what—is growing inside her? As her due date approaches with alarming swiftness, the fear, paranoia, and conspiracy theories begin to pile up. Spiked with blasts of hallucinatory color, surreal shocks, and subversive comedy, the audacious feature debut from Danny Perez is a no-holds-barred descent into delirium.